Entire nation stands by their armed forces in Jihad against terrorism: Dr Tahir-ul-Qadri
Says every citizen of the state duty-bound to support armed forces according to Islamic law
Pakistan military will come out victorious at every front
Unrivalled sacrifices of the armed forces a glorious chapter in national history
Soldiers of Pakistan military are pride of the nation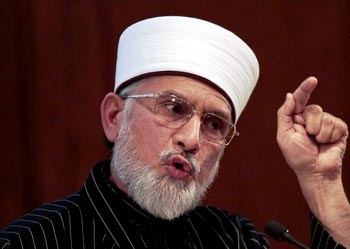 Pakistan Awami Tehreek (PAT) leader Dr Muhammad Tahir-ul-Qadri has said that the armed forces will be successful in their Jihad against terrorism. He said that extending support to the armed forces is binding on every citizen from the point of view of Islamic law. He said that Allah Almighty's and the Holy Prophet's (peace be upon him) help is with the soldiers and officers of Pakistan armed forces who are fighting the evil forces and terrorists. He said that every child, man and woman of the entire nation are proud of their armed forces and stand by them through thick and thin.
He said that no army of the world can compete with armed forces of Pakistan in terms of bravery, professionalism and competence. He said that the soldiers of Pakistan military are protector of the motherland and unrivalled sacrifices rendered by them for its defence form a glorious chapter in the annals of national history. He said that the Pakistan military would come out victorious at every front because Allah's help is with them.
Dr Tahir-ul-Qadri expressed these views while addressing an emergency meeting of central office holders of Pakistan Awami Tehreek this evening.
Dr Qadri asked the entire nation to remain vigilant. He directed the PAT workers to establish committees at ward, village and union council levels for the protection of the citizens and declared to turn hundreds of schools and thousands of Dawah centres of MQI into peace centres where lectures on peace and harmony will be delivered during evening hours.
Dr Tahir-ul-Qadri said that Pakistan armed forces are doing practical Jihad against terrorism, adding that the PAT workers will not hesitate to offer any sacrifices in this Jihad against terrorism. He asked the workers to stay ready for blood donations.