PAT workers' killing: Case to be registered against Sharif brothers, says Qadri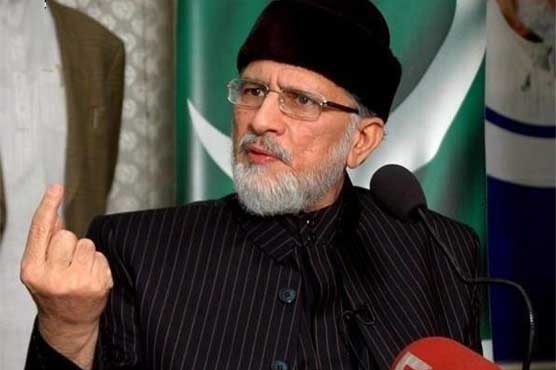 Shameful act of 'state terrorism' was displayed today, PAT chief Tahirul Qadri said.
TORONTO (Web Desk) – Chairman of Pakistan Awami Tehreek (PAT) Tahirul Qadri on Tuesday said First Information Report (F.I.R) will be filed against Prime Minister Nawaz Sharif and Punjab Chief Minister Shahbaz Sharif for the deaths of his supporters.
Addressing a press conference via video link from Toronto, Tahirul Qadri said that eleven PAT workers have been martyred and 83 have been injured due to straight fire from the police.
"I congratulate the people who fought with such peace regardless of how horribly they were treated," he said.
Canada-based Pakistani scholar Qadri said the purpose of this 'state terrorism' was to avenge his support for ISI and Pak Army.
He said chaos was created within the nation to distract the attention from Pak Army's Zarb-e-Azb operation in North Waziristan.
"I wanted to inform them that this movement can never be stopped. There will be Qisas of blood according to Sharia," Tahirul Qadri said.
He questioned that if police were there to remove barriers from outside his residence in Model Town, then why did they open fire at the gate of his house.
"They destroyed the generator at my house and shut down all electricity. How does this link with the barriers?" he asked.
Qadri said these barbaric leaders wanted to show that they can do the worst terrorism.
He further stated that "My workers have raised my head, they have won this event. They will never be defeated and my workers will stay steadfast ."
Tahirul Qadri warned that "workers' martyrdom will bring end of these rulers. Qisas will be done for the martyrs."
He thanked all political parties who have shown their solidarity with his party and walked out of the assembly.
The PAT chief said he will visit Pakistan on 23 June as planned earlier and reveal party's future strategy on his arrival at the Islamabad airport.
Source: http://dunyanews.tv