Qadri vows to take revenge through revolution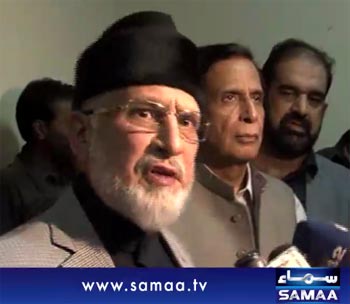 LAHORE: Pakistan Awami Tehreek (PAT) head Dr. Tahir ul Qadri said that he would take avenge of June 17 deadly police raid at his residence and central office in Model Town, Lahore.
Speaking to media persons at MS Office at Jinnah Hospital, Dr. Qadri maintained that he would bring about a revolution in Pakistan.
"I have first come to hospital to see my injured workers. The Model Town tragedy is the worst example of state-sponsored terrorism, he said.
He lashed out at Punjab Chief Minister Shahbaz Sharif for the Model Town incident, during which at least 12 PAT's workers were killed by police.
"Police opened straight fires on our workers, including women," he said. "The government hijacked my plane. But I have kept my promise of returning to Pakistan to lead the revolution." – SAMAA
Source: http://www.samaa.tv/pakistan/23-Jun-2014/qadri-vows-to-take-revenge-through-revolution
Source : http://www.samaa.tv/pakistan/23-Jun-2014/qadri-vows-to-take-revenge-through-revolution