Dr Tahir-ul-Qadri declares Zarb-e-Azb operation as Jihad, announces aid for IDPs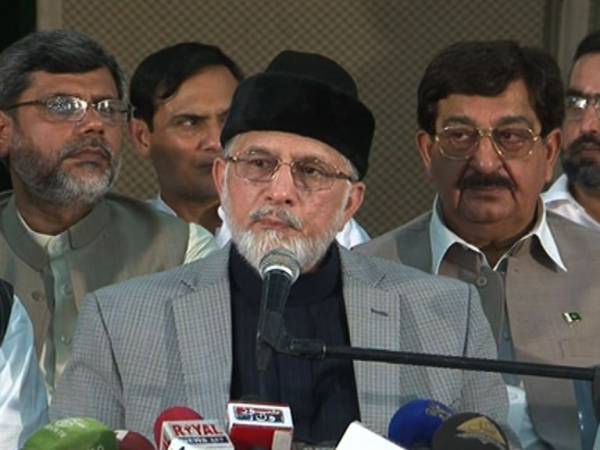 LAHORE: Pakistan Awami Tehreek (PAT) head Dr. Tahir-ul-Qadri on Tuesday extended his support to ongoing military operation in North Waziristan for elimination of terrorists.
Addressing a press conference here, Qadri said: "From this Friday, I appeal to everyone to stage peaceful rallies in support to Zarb-e-Azb."
"I completely support the army's operation, 'Zarb-e-Azb' to stamp out terrorism," he said.
"The operation of Zarb-e-Azb by the Pak-Army is a jihad against terrorism."
He announced that PAT and Minhaj ul Quran International (MQI) would send 25, 000 bags of food and medicines to IDPs camps. He also advised his workers to set up donation camp.
Dr. Qadri said that policemen in civil dresses were used to carry out terrorism at Islamabad airport and blamed it on PAT's unarmed civilians. He alleged that police were used for state terrorism.
Terrorists were hired by the government in civil clothes to attack the police and blame PAT workers. #DrQadri pic.twitter.com/WjygwwkjN4

— Dr Tahir-ul-Qadri (@TahirulQadri) June 24, 2014
He said that 1400 PAT's workers were arrested and booked under anti-terrorism clauses. Never in the history of Pakistan, so many people were charged. "We will take revenge of state terrorism through law."
"Yesterday the Punjab police fired teargas on the people in Islamabad when they were praying the Fajr prayer." They had come to Islamabad for my reception.
He said that the Punjab Government has demonstrated brutal terrorism on my arrival as they had done in Model Town on 17th June. – SAMAA
Source: http://www.samaa.tv
Source : http://www.samaa.tv/pakistan/24-Jun-2014/qadri-declares-zarb-e-azab-operation-a-jihad-against-terrorism