MWF launches Emergency Relief for Waziristan IDPs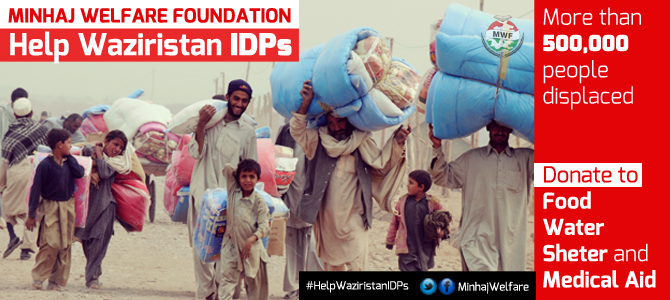 In the wake of mass exodus of civilians from North Waziristan Agency (NWA) after the military operation started there, the authorities have extended the 'evacuation corridor' allowing civilians to leave the conflict areas. The Internally Displaced Persons' (IDP) numbers is over 455,000 people (source: FDMA). According to OCHA reports, the Ministry of States and Frontier Regions (SAFRON) expects more than 500,000 to be displaced from NWA.
An assessment has been conducted in the area. Major pressing needs identified area are food, hygiene, medicine, shelter and clean water. Emergency distribution of humanitarian assistance by welfare organizations present in the area has already started to some of the families.
Dr Muhammad Tahir-ul-Qadri, the founding leader of MWF, has officially called for an immediate emergency response and humanitarian assistance. In a press conference two days ago, he said:
"The response to the situation has been too small to even begin to effectively address the needs of those displaced. The most urgent priority is to ensure that safe water as well as medicines are available, food supplies are provided and delivery of desperately needed aid accelerated. MWF will be sending more than 25,000 Emergency Packs consisting of food items, medicines and water containers immediately." Dr Qadri further announced that he would personally visit the camps of IDPs as a mark of solidarity with them and bolster their morale.
Minhaj Welfare Foundation is appealing for donations to help provide food, water, medical aid and shelter to the IDPs. You can donate via our donations option HBL Freedom AC# 01977900163103 (Faisal Town Branch, Lahore) or call the donations team on +92 42 351 683 65. Please #HelpWaziristanIDPs, your support is urgently needed.