Noted Ulema demand action against perpetrators of Model Town carnage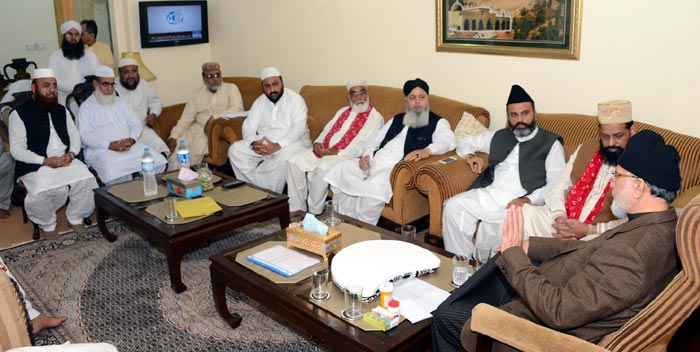 The Model Town tragedy is a heart-wrenching incident in Pakistan's history which exposed the beasts draped in politics and government. The people did not give the government the mandate for mass-killing of people. No power of the world can stop the revolution that has been fired by blood of martyrs. We strongly condemn the killing of unarmed and innocent PAT workers and demand the perpetrators of this horrible crime to be made an example of.
These views were expressed by a high-power delegation of Ulama led by President of National Mashaykh Council Pakistan Khawaja Ghulam Qatub-ud-Din Faridi that comprised Syed Azhar-ul-Hassan Gilani, Syed Abdullah Shah, Sahibzada Saeed Ahmad Sabri, Sahibzada Mian Ijaz Ahmad, Mufti Muhammad Saddique, Mian Jalil Ahmad Sharqpuri, Qari Muhammad Jafar Shamsi Kasuri, Sahibzada Pir Abdul Mustafa Haqqani, Allama Tahir Sharif, Maulana Muhammad Ashraf, and Allama Imdadullah.
Speaking on the occasion, Dr Muhammad Tahir-ul-Qadri said that the ruling elite had kept the masses deprived of their constitutional rights for many decades. He said that PAT had initiated a peaceful and constitutional struggle against plunder, oppression and injustice of the current rulers, adding that revolution was the destination of this struggle. He said that the fake mandate holders had been unnerved by our movement and they tried to scare the determined workers of PAT through the Model Town tragedy. He further said that the state terrorists wanted to terrify him in a bid to stop him from coming to Pakistan.
Khawaja Ghulam Qatub-ud-Din Faridi said that the way innocent workers of PAT were killed in broad daylight in a savage manner could not find a similar parallel in the history of the country. He said that the valiant, peaceful PAT workers lighted the candle of revolution by sacrificing their lives in the face of display of the worst ever state terrorism.
Syed Azhar-ul-Hassan Gilani said that the recent tragic incident had led people to conclude that the rulers were not their protectors; rather they were beholden to their own interests.