Revolution a few weeks away: Dr Tahir-ul-Qadri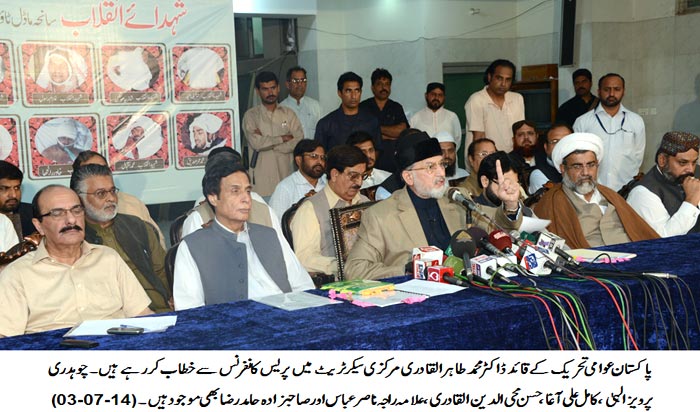 With the support of Allah Almighty and people of Pakistan, constitutional and democratic revolution will take place in a few weeks. I will announce the date of revolution and the course of action to achieve it in a few days. The officers and officials of the law enforcement agencies should become loyal to the state, Constitution and law instead of Raiwind. Protection of Pakistan Act (PPA) will be used to victimize political opposition. The government that came into being on the basis of rigging has lost its right to rule politically, morally, constitutionally and even from point of view of Islamic law. The Model Town carnage is a glaring example of Shahbaz Sharif's arrogance and dictatorship. Nawaz will be the first to go to gallows followed by Shahbaz and Sanaullah in Qisas of martyrs. Four thousand families have enslaved 180 million Pakistanis.
PAT chief Dr Muhammad Tahir-ul-Qadri, PML-Q leader Chaudhry Pervez Elahi, Majlis-e-Wahdat-tul-Muslameen leader Allama Nasir Abbas and Sunni Ittehad Council chairman Sahibzada Hamid Raza stated this while addressing a joint press conference in PAT's central secretariat in Model Town on Thursday.
Dr Tahir-ul-Qadri said that revolution is a few weeks away, following which the fundamental rights as enshrined in the Constitution from Article 1 to Article 40 will be conferred upon the masses and there will be merciless accountability. He said that people's revolutionary councils are being established at provincial, divisional, Tehsil and union council levels to take care of the administrative affairs after revolution.
Warning the officers of civil services, Dr Tahir-ul-Qadri asked them not to take illegal and unjustified orders of the corrupt rulers, adding that their salaries are paid by the state, not Raiwind. 'Therefore, the officials of law enforcement agencies should be loyal to the state, law and the Constitution and give up obedience of power drunk, and anti-Constitution rulers. It is a matter of a few days. Nawaz and Shahbaz will not be able to find a place to hide themselves,' he added. Designating the Protection of Pakistan Act as an Act of terrorism, Dr Qadri rejected it altogether, saying that it will be used to victimize the political opponents.
One of the PAT workers from Shahdhra police station area whose son got seriously injured in police shootout in Model Town incident told the press conference that police party forcibly entered his house at night with the help of a ladder. He said that the police officials intimidated and harassed the men and women of his family and took them to police station to register a case of terrorism against them.
At this Dr Tahir-ul-Qadri asked the police officials to change their attitude, otherwise they would also be made a point of reference in history along with the corrupt rulers and the people would drag them on the roads. He said that hundreds of educated people would be ready to take control of police stations, which would also lead to elimination of unemployment.
Speaking at the occasion, PML-Q leader Ch. Pervez Elahi said that the blood of martyrs would not go in vain. He said that the rulers perpetrated massacre by getting the police to fire live bullets at unarmed PAT workers, which is a glaring example of their arrogance. Expressing his complete agreement with Dr Qadri's ten-point agenda, he vowed to continue the joint struggle for revolution.
Allama Raja Nasir Abbas said on the occasion that we are heirs of martyrs, adding that we have to rid the masses of the killer rulers and his party will be the vanguard of revolution for this purpose.
Expressing his views in the press conference, Sahibzada Hamid Raza said that there are two phases of Zarb-e-Azb. He said that in the first phase, the armed forces will eliminate terrorists and in the second phase the political wing of terrorists i.e. the corrupt rulers will be eradicated through people's revolution. He said that on the one hand, resignation of Rana Sanaullah was taken and on the other hand, it is being communicated in Faisalabad through Directorate General of Public Relations Punjab (DGPR) about inauguration of hospital at the hands of Rana Sanaullah. He said that Qisas of the martyrs of Model Town would be taken, stating that under which Nawaz will be the first person to be sent to gallows to be followed by Shahbaz and Rana Sanaullah.
At this occasion, Mian Sajid, who was part of Zulifkar Ali Bhutto's government at a young age of 19, announced to join Pakistan Awami Tehreek. He said that four thousand families had kept the 180 million people hostage through their exclusive monopoly on resources and decision-making. He Tahir-ul-Qadri appointed him as vice president of PAT.