Nation to see Dr Tahir-ul-Qadri & Imran Khan together soon: Sheikh Rashid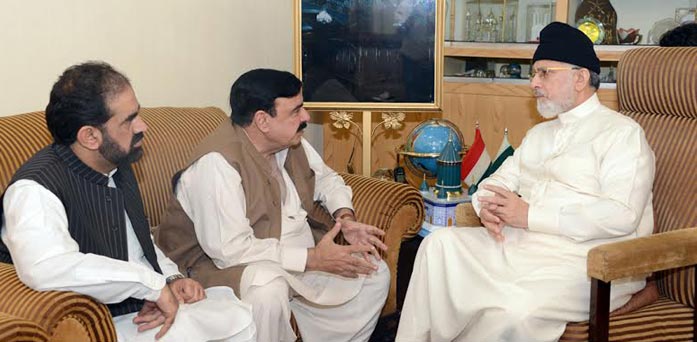 The Pakistani nation will soon see Dr Tahir-ul-Qadri and Imran Khan on the same agenda. The government is ready to sacrifice more than four constituencies. What the people want is not the petty sacrifice of Khawaja Saad Rafique and Ayaz Sadiq. Rather it is bigger sacrifice than that.
Awami Muslim League leader Sheikh Rashid Ahmad expressed these views while talking to media after meeting with Dr Tahir-ul-Qadri at his residence in Model Town.
Sheikh Rashid said that Dr Tahir-ul-Qadri is immensely generous by heart and his personality has exceeded his expectations of him, which can give one an idea of his wisdom, intellectual caliber and depth. He said that after disposing off Rana Sanaullah, the rulers are now willing to offer a sacrifice of ten constituencies what to speak of four. He said that the entire nation should reach D-square Islamabad on August 14, adding that any leader who would not stand by the people at this occasion will face public humiliation. He said that those politicians who would make friends with rulers, the people will hate them.
When asked about military operation in North Waziristan, Sheikh Rashid said that the entire nation stands by their armed forces. He said that it was also important to expose the hypocrisy of rulers in this regard.