Over 50 Mashaykh announce support for Dr Tahir-ul-Qadri's revolution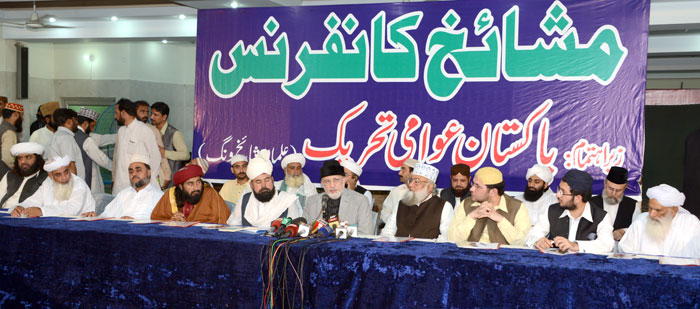 More than 50 distinguished Mashaykh of Pakistan have announced their full support for Dr Muhammad Tahir-ul-Qadri's struggle for revolution. We played our role in establishing Pakistan and we would now be in the forefront of struggle to save Pakistan. Where drops of sweat of Dr Qadri fall, we would not hesitate from offering our blood there. We would spread the love-filled message of our forefathers in every nook and corner of the country. We would revive the memory of the Struggle for Pakistan by becoming part of revolution. The cruel rulers' lust for power has pushed the Muslim Umma into abyss of degradation and economic terrorism has forced people to face starvation. The poor are compelled to sell their kidneys to make their both ends meet while young girls of marriageable age grow white hair on their heads, for their poor parents do not have enough resources to pay for dowry.
Distinguished religious scholars and Mashaykh including Dr Muhammad Tahir-ul-Qadri, Pir Abdul Hadi Yar Hassan (Mardan), Pir Arif Gilani of Kotli (Azad Kashmir), Pir Sajjad Ali Shah (Peshawar), Sahibzada Ahmad Ali Sultan (Tanzeem-ul-Arifeen), Pir Syed Zameer Jilani (Sindh), and Syed Hussain Rasool Khakhi (Chakwal) expressed these views while addressing Mashaykh Conference held under the banner of PAT in the central secretariat on July 19.
Speaking on the occasion, Dr Tahir-ul-Qadri said that it was responsibility of the Mashaykh, and Sajjada Nasheens of the holy shrines to spread the love-filled message of their forefathers throughout the country. He said that he considered the dust of the saints' shoes the crown of his head and blessed powder for his eyes. He said that when Mashaykh and Sajjada Nasheens did not pay as much attention to furnishing spiritual, moral, political, and intellectual guidance to the people as they used to, the society became a hub of terrorism, extremism, violence and hatred. He said that in order to get rid of menace of terrorism and extremism, we needed to spread the teachings of the Holy Prophet (SAW) and implement the principles of statecraft which underlined the establishment of the state of Madina.
Congratulating the Pakistan military on carrying out successful Zarb-e-Azb operation against terrorists, Dr Tahir-ul-Qadri lambasted the government, stating that the coward and insensitive rulers only wasted precious time by deciding to delay the operation in the name of dialogue and reconciliation. He said that no philosophy except the Sufis' teachings of love, peace, moderation, inclusion and forbearance could save Pakistan. He said that Sajjada Nasheen of the saints and holy personages were inheritor of a great spiritual legacy. He said that the certified students and disciples of Shaykh Abdul Qadir Jilani (RA) joined the forces of Salahuddin Ayubi in the struggle for liberation of Al-Quads, adding that four thousands of them fought under the command of his son for the same purpose. He said that Hazrat Khawja Gharib Nawaz (RA) laid the foundation of the Islamic empire in Ajmer.
Dr Tahir-ul-Qadri wondered how those living in a palace of 4000 Kanals could feel the pain of the underprivileged sections of society and weeping mothers who could not afford the medicines for their dying sons. He said that the educated youth who got their education by selling off whatever they had were forced to face humiliation in houses of MPAs and MNAs for jobs. Commenting on the process of dispensation of justice in Pakistan, he said that three, three generations would die waiting for justice but it would not come their way.
Following Mashaykh attended the Conference:
Pir Sahibzada Arif Hussain Shah Gilani (Kotli, Azad Kashmir), Pir Syed Mir Tayyab Ali Shah Bukhari (Sajjada Nasheen, Hazrat Karaman wala Sharif), Shaibzada Syed Hussain Rasool Shah Khaki (Sajjada Nasheen, Makhdoompur Sharif, Chakwal), Pir Syed Sajjad Ali Shah (Peshawar), Pir Syed Abdur Rehman (Peshawar), Pirzada Muhammad Abbas Qadri (Manki sharif), Pir Syed Usman Nuri (Nuri Foundation), Pir Syed Masoom Hussain Naqvi (JUP, Niazi group), Sahibzada Syed Maqsood Hussain Shah Hamdani (Talla Gang), Sahibzada Hakim Muhammad Owais Chishti (Ghakhar Mandi), Pir Abdul Hadi al-Qadri (Mardan), Pir Jamil-ur-Rehaman Chishti (Chishtiabad sharif), Pir Mushtaq Ali Suhrwardi (Abbottabad), Pir Syed Mujahid Hussain Shah Kazmi (Abbottabad), Pir Syed Tariq Gilani (Jhang), Pir Azhar Hussain Shah (Sialkot), Pir Haji Ghulam Haider Qadri (Baghbanpura, Lahore), Pir Syed Tauseef-un-Nabi (Daska Sharif), Pir Zameer Hussain Shah (Ghotki), Pir Makhdoom Nadeem Hashmi, Pir Qari Shah Muhammad Ahrar (Peshawar), Sahibzada Muhammad Tayyab Mubeen Naqshbandi (Mustafa abad), Makdoom Syed Nafees-ul-Hassan Shah Bokhari, Pir Ahmad Hussain Badsha, Pir Sahibzada Bashir Jan, Allama Muteeullah, Allama Mufti Irfanullah, Pir Ghulam Ghous, Pir Javed (Salyana Sharif), Pir Azhar Mamoon Naqshbandi, Sahibzada Tayyab Mubeen Masoomi, Tauseef-un-Nabi Naqshbandi (Rawalpindi), Haji Arshad, Haji Saeed, Mufti Haseeb Hussain Shah (Sunni Ittehad Council), Pir Muhammad Naeem Javed Nuri (Tahuffaz-e-Namoos-e-Risalat Mahaz), Mufti Ahmad Saeed Tufail, Pir Muhammad Saddique Naqshbandi, Pir Muhammad Rashid Naqshbandi, Hafiz Abdul Gar Sultani (Narowal), Pir Khalifa Muhammad Saddique Chishti (Green town, Lahore), Sufi Masood Ahmad Saddique Lasani, Sahibzada Latif Chishti Sabri and Pir Syed Ali Raza.