PAT asks Dr Abdul Qadeer not to make irresponsible statements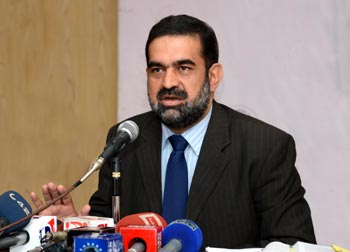 Reacting to renowned scientist Dr Abdul Qadeer's statement, PAT President Dr Raheeq Ahmad Abbasi has said that Dr Qadeer's critical statement about the Model Town massacre is quite perplexing as well as strange. He said that instead of condemning the state terrorism and expressing his grief and sorrow on the killing of innocent PAT workers, Dr Qadeer had chosen to criticize them. He said that intense feeling of failure in carving a political role for himself in the anti-people, anti-democracy and obsolete system had also affected the manner of thinking of person of Dr Qadeer's stature.
Dr Raheeq Abbasi said that Dr Tahir-ul-Qadri was a name of a thought, an ideology and a vision that trained his workers for 30 years and kept them away from any kind of clash for such a long time. He said that Dr Qadri loved his workers like his real sons and the millions of people considered it a matter of immense honour to join the caravan of revolution under the leadership of their leader. He said that PAT held Dr Abdul Qadeer in the highest esteem due to his services for the state and society.
Dr Abbasi said that the current rulers ordered the worst ever state terrorism on the hapless workers and civilians on June 17, adding that such a barbarism could not find its parallel in the country's history. He said that Dr Qadeer's ability to think and analyse situation objectively had been affected due to old age and weakness. He said that PAT expected of the Pakistan's benefactor to refrain from passing such irresponsible statements in a bid to protect his reputation and character from being questioned. He said that Dr Qadeer should know that Dr Tahir-ul-Qadri wanted to rid the nation of the looters who occupied power in the name of so-called elections. He said that going by the contents of Dr Qadeer's statement, it appears as if it were issued by PML-N's media cell.