Future of coming generations held hostage courtesy foreign loans: Dr Tahir-ul-Qadri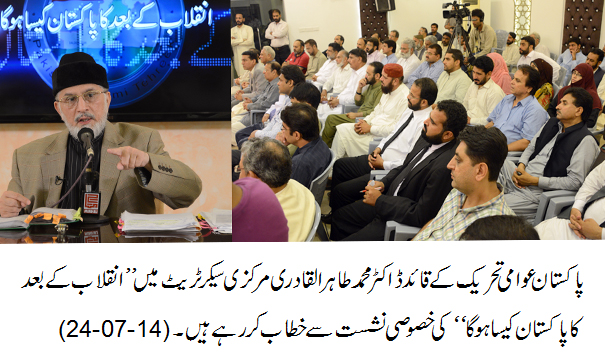 PAT chief Dr Muhammad Tahir-ul-Qadri has said that the government has held the future of our coming generation hostage by securing loan commitments of whopping $52 billion in the first 9 month of its power. He said that the incompetent government had also got a domestic loan of Rs. 12000 billion from local banks. He said that all governments that came into power took a total loan of $59 billion from 1985 to 2013, while the present rulers got the double of it during the first year in office thereby further making each citizen indebted to the tune of Rs. 0.2 million. He said that volume of corruption being committed on daily basis was Rs. 5 billion, vowing that corruption would be eliminated after revolution.
Dr Muhammad Tahir-ul-Qadri made these remarks while addressing the participants of a sitting titled 'What will post-revolution Pakistan look like?' He said that the Supreme Court of Pakistan, in a judgment on July 22, 2013, ordered the constitution of a high-powered Commission to scrutinize and approve the appointments of heads of 58 public sector enterprises. He said that Prime Minister Nawaz Sharif, in what can clearly be termed as gross violation of the apex court's ruling, issued a notification wherein he retained the power to appoint heads of 35 state-owned entities and handed over the same power to some of his cabinet ministers. He said that it was in this way that the Supreme Court's order was torn into shreds with abandon.
Dr Qadri further stated that the poor had been kept deprived of their rights and thus humiliated while the rich were getting loans of billions of rupees with the intention not to pay them back. He said that Article 38 of the Constitution would be implemented in letter and spirit after revolution and the people would get their basic necessities of life. He said that he had completed his planning for provision of socio-economic justice and basic necessities of life at half of the original price.
He said that corruption of Rs. 100 billion per month would be reduced gradually thereby saving Rs. 25 billion per month and Rs. 300 billion per annum during the first phase. He said that tax leakage of Federal Board of Revenue was Rs. 2000 per annum, adding that annual income of Rs. 500 billion would be generated additionally during the first phase and tax leakages would be plugged. He said that tax system would be made transparent. He said that mineral resources deposited in Pakistan were sufficient to take care of people's welfare. He said that the poor would be at the centre of his policies.