Dr Tahir-ul-Qadri rejects imposition of Article 245 in Islamabad
Says the decision to hand Islamabad over to army is against the spirit of the Constitution and thus unacceptable.
Says the government wants to use army as police for its political purposes
Addresses an emergency press conference in Lahore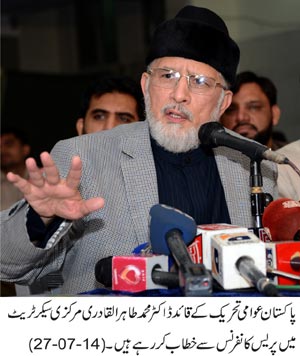 PAT leader Dr Muhammad Tahir-ul-Qadri has rejected the government's decision of handing Islamabad over to the army under Article 245 of the Constitution. He said that given the ongoing operation Zarb-e-Azb in KPK, there was a need of invoking Article 245 there to protect people's lives and properties. He said that dozens of people had been getting killed on daily basis in Karachi and target killing had been underway there for a very long time, adding that law and order situation in Karachi necessitated the imposition of Article 245. He said that the government's invocation of Article 245 in Islamabad was part of a conspiracy solely for political objectives. He said that the government was undermining the prestige and honor of the military. He further said that this decision of imposition of Article 245, which was against the spirit of the Constitution, was not acceptable under any circumstance and PAT vehemently rejected it.
Dr Tahir-ul-Qadri expressed these views while addressing an emergency press conference in the PAT's central secretariat on July 27 in Lahore. PAT President Dr Raheeq Abbasi, Chief Coordinator Muhammad Hanif Mustafavi, Secretary Information Qazi Faiz-ul-Islam, Jawad Hamid, Iftikhar Shah, Fayyaz Warraich and others were present on the occasion.
Dr Tahir-ul-Qadri revealed that he would soon be announcing date of revolution as well as that of the end of the government. He said that the martyrs had watered the plant of revolution with their blood. He said that following revolution, FIR would be registered against killers and they would be arrested and put behind bars. He said that they would be meted out the same treatment in accordance with law which was meted out to a common man. He said that Nawaz Sharif was the mastermind of the Model Town tragedy and both Nawaz and Shahbaz Sharif would be arrested together.
Addressing the police officers and officials, Dr Qadri said that the rulers used them as tissue paper and threw them away afterwards when their purpose was served, adding that there were valuable lessons for them in this entire episode. He said that police officials were servants of the state, not of the Raiwind's killer rulers.
Rejecting the report of Joint Investigation team, he said that the Chief Minister, who was himself a killer, constituted joint investigation team himself like Judicial Tribunal. Throwing light on the reasons of rejecting the JIT report, he said that 8 high police officials were part of the joint investigation team which was headed by Additional DIG Special Branch. He said that Intelligence Bureau's Malik Zafar was subordinate of the Prime Minister. SP Muzaffar Hanif, DSPs Saif Mustafa and Muhammad Liaqat and Inspector Ijaz Rashid represented the killer police, adding that only two members who were from ISI and MI were independent and fair minded. He said that in case of majority decision, the opinion of these two people would be of no consequence.
Commenting on a top-level meeting held in connection with the Model Town tragedy on June 16, Dr Tahir-ul-Qadri said that FIA's Director, IB's Incharge Syed Khursheed Alam and top FBR officials attended the meeting on the orders of the Prime Minister Nawaz Sharif because FIA and IB were under direct control of the PM, whereas FBR officers could not have attended the said meeting without the approval of the Finance Minister Ishaq Dar, who was a close relative of Nawaz Sharif. He said these federal officers were not expected to join the meeting merely at the behest of the Chief Minister and Law Minister of Punjab.
Dr Tahir-ul-Qadri said that it was as clear as broad daylight that the officers directly subordinate to the Prime Minister attended the meetings on his directions, adding that in this background, the Prime Minister was directly involved in planning the mass killing. He said that an FIR would be registered against him after revolution; he would apprehended and his name would be put on Exit Control List and meted out the same legal treatment as is meted out to a common citizen.
Commenting on affidavit of the Chief Minister that he submitted in the Judicial Tribunal, Dr Tahir-ul-Qadri said that while the mass killing of innocent civilians continued, Shahbaz Sharif preferred to perform his routine functions. He said that the Chief Minister should hang his head in eternal shame that lives of over 100 people did not mean anything to him. He asked the rulers to spend a few more days in routine work of their offices and they would soon come to know after revolution as to what importance the lives of the people carried.
Dr Qadri asked Nawaz Sharif to come on TV and admit publically that his government had failed and that is why he invoked Article 245 of the Constitution. In reply to a question, he said that the government wanted to use army like police, adding that they wanted the army to safeguard their family and Raiwind palace and were involved in hatching a heinous conspiracy of playing the army against the people, which would fail. He said that there was no possibility of a clash between the masses and the army because the people loved their army and stood by it at every step.