The Government will go before end of August: Dr Tahir-ul-Qadri
Dr Tahir-ul-Qadri announces Aug 10 as Yum-e-Shuhada (Day of Martyrs)
Says revolution is on its way
Martyrs' Day will be observed on August 10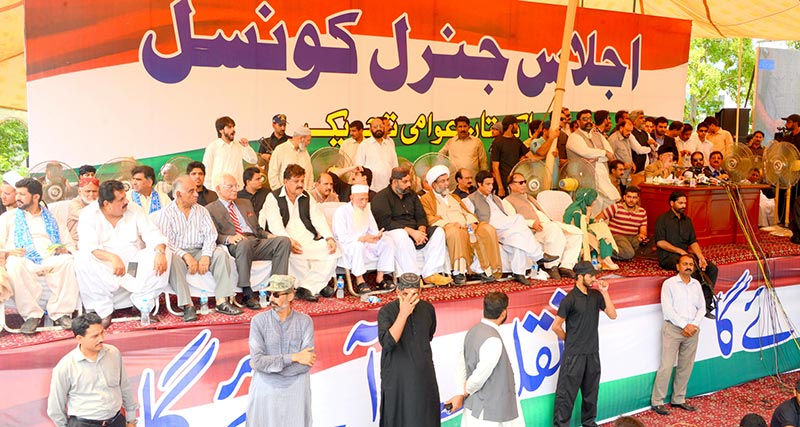 The leader of Pakistan Awami Tehreek (PAT), Dr Muhammad Tahir-ul-Qadri, has said that if the western world thinks that there is a democracy and constitutional rule in Pakistan, then they have a gross misunderstanding of the situation here. He said that the standard of living of people of Pakistan was far inferior to that of animals in the western world. He said that if the Sharif brothers wanted to save their palaces, they should stop repression on the people.
Addressing a heavily attended press conference in Model Town, Lahore, Dr Tahir-ul-Qadri said that two cases namely the Lahore case and Islamabad case were currently underway. He said that the Lahore case was about mass killing of 14 people and intention to kill over 90 of them who were lying injured as a result of live bullets fired by the police. He said that the Islamabad case was about political, social and economic murder of 180 million people. He said that the decision of the Lahore case was Qisas while that of the Islamabad case was revolution. He said that FIR of the Lahore tragedy had not been registered so far despite passage of one and half months, adding that the affected families had been knocking the doors of the law and justice for registration of FIR but to no avail so far.
Dr Tahir-ul-Qadri said that if an authority of some locality in the west shot down a dog, he would not be able to hold public office anymore. He said that 14 people were killed in broad daylight here but even First Information Report (FIR) had not been registered. He said that had this incident taken place in any western country, would the government there had continued to remain in power?
Dr Qadri said that Abdur Raoof, in-charge of Elite Force Punjab, confessed that 479 bullets of SMG and 59 bullets of G3 rifles were fired. He said that when the media proved the identity of some of the police officials, the rulers took them into custody and made them flee the country. He said that he had got a record of phone calls which proved that Punjab Chief Minister Shahbaz Sharif was directly involved in the Model Town incident.
Dr Tahir-ul-Qadri said that the worst state terrorism was perpetrated on our innocent and unarmed workers on June 17 on the orders of the Sharif brothers, whose parallel was not to be found in the democratic history of the world. He said that had we wanted at that time, we would have refused to bury the dead bodies till the sacking of the Punjab government and we would have staged such a massive sit-in in front of the Punjab Assembly and the Chief Minister's House, which would have continued till the government was sent home. He said that we would have sealed off Lahore city if not Pakistan, adding that had we wanted, we would have ransacked the Jati Umra palaces because the entire nation was with us.
He said that we did not do so for the sake of peace, further saying that we adopted the course of law and justice for redressal of our grievances and government's oppression. He held that we filed an application for registration of an FIR against the accused. He added in the same breath what we kept knocking on the door of law for one and half months but the cruel rulers did not let the authorities register our FIR. He said that the home department said that one FIR had already been registered and all legal proceedings would continue on the basis of that FIR. He said that 1400 people were booked on the day of his arrival in Pakistan, adding that 53 of them, who were offering Fajr prayers on June 23, were arrested under terrorism charges and they had not been granted bail so far.
Dr Tahir-ul-Qadri announced to observe Martyrs' Week from August 4 to August 9 throughout the country, adding that Martyrs' Day would be observed on August 10 in Model Town. He said that everyone coming in to join the central ceremony of Martyrs' Day should bring the Holy Quran, prayer mat and Tasbeeh with him/her. He gave his personal guarantee that the Martyrs' Day would be peaceful. He, however, warned that if the Punjab government or police stopped the people coming for Martyrs' Day, it would then be observed in palaces of Jati Umrah instead of Model Town. He said that PAT and its workers had been keeping their cool and exercising restraint and added that our love for peace should not be considered our weakness. He said that we were not the ones endeavoring for 'Azadi' (freedom) but for revolution. He said that the blood of the martyrs would be avenged.
Dr Qadri said that our credentials for peace were proven beyond doubt but added in the same breath that the peaceful workers should neither be harassed nor arrested. He asked the police to expect the same treatment from PAT which they would mete out to his workers. Addressing the police, he said that they were servants of the state, not of Sharif brothers. He said that the rule of Sharif brothers would end before the end of August, adding that they should, therefore, accept their orders wisely. He said that it was on Nawaz Sharif to decide whether he wanted his brother's or his government to be the first to go home. He said that 15 of our workers were killed and according to the Holy Quran, there would be Qisas of these 15.