Masses not to allow rulers to flee the country: Dr Tahir-ul-Qadri
Says proper timeframe and policy will be given for revolution march after Martyrs Conference on August 10.
In case of police violence and brutality on workers, Martyrs Day will be observed in Jati Umra.
Shahbaz Sharif ordered killings in Model Town tragedy. Recording exists.
Ministers and advisors are ready to become approver.
Dr Tahir-ul-Qadri addresses press conference during his visit to office of Majlis-e-Wahdat-ul-Muslameen in Lahore.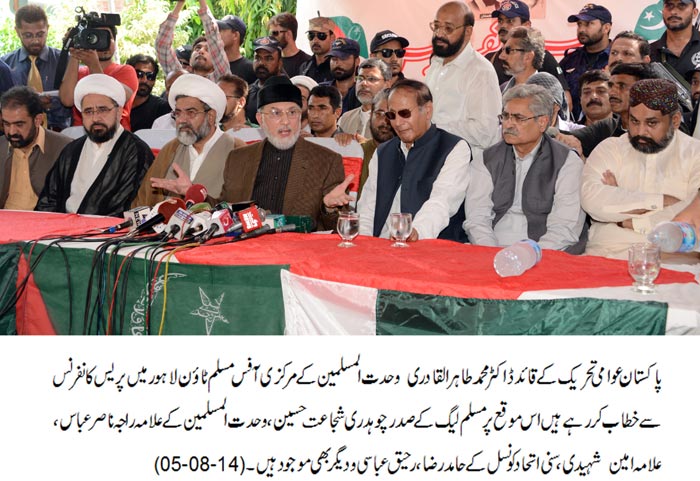 PAT chief Dr Tahir-ul-Qadri has said that the people would not allow rulers to run away from the country after revolution. He said that these rulers sought pardon from General Pervez Musharraf in the past and fled the country. He revealed that when the army reached to arrest them, they hid themselves in wash rooms. He said that those who held the state institutions hostage by violating their sanctity, with which face did they talk about the law, Constitution and democracy. He said that these rulers would not be in power by August 31, and asked police and local administration not to accept their illegal orders. He said that Martyrs Conference was going to be arranged on August 10 and warned that if the police created hurdles in the way of people coming for participation in the Conference, tortured or arrested them or commandeerd their transport, the Martyrs Day would be observed in Jati Umra palace, not Model Town.
Dr Tahir-ul-Qadri expressed these views while addressing a press conference in the office of Majlis-e-Wahdat-ul-Muslameen in Muslim Town Lahore on August 5. PML-Q chief Chaudhry Shujaat Hussain, Raja Nasir Abbas of Wahdat-ul-Muslameen, Sahibzada Hamid Raza of Sunni Ittehad Council, Dr Raheeq Abbasi, Allama Amin Shaheedi, Basharat Jaspal, Qazi Faizul Islam, Fayyaz Warriach and Iftikhar Shah Bokari were also present on the occasion.
Dr Tahir-ul-Qadri said that every person coming to attend Martyrs Conference on August 10 would bring a copy of the holy Quran, a prayer mat and a rosary with him. Addressing IG Punjab and officers of Lahore police, he said that they were servants of the state, not of Sharif brothers. He said that they should act to uphold rule of law and constitution and not carry out dictates of the rulers. Hence, they should be loyal to the state of Pakistan. He asked the police not to harass or arrest the peaceful workers and people coming to attend Martyrs Conference, seize their transport or cancel route permits of the public vehicles or driving licenses, adding that these rulers were guests of few days themselves and they would not come to their rescue. He said that they would not remain rulers of the country by August 31.
Dr Tahir-ul-Qadri said that the policy and time-frame of revolution march would be announced later on after observance of Martyrs Day. He revealed that District Coordination Officers had ordered the bus owners to hand over the keys of their transports to their offices. He said that bus stations were being forcibly closed and route permits were being cancelled. He asked what kind of democracy did these illegal, unconstitutional and devious tactics represent? He said that the rulers who were involved in tax fraud, money laundering and were violators of the Constitution wanted to frame treason charges against him. He asked the rulers to commit as much repression as they could bear.
Dr Qadri said that the rulers oversaw killing of hundreds of people belonging to Millet-e-Jafaria in Peshawar, Hangu, and Gilgit-Baltisitan and they staged sit-in with their dead bodies, adding that they would have to answer for all of these killings. He said that Qiasas was always taken under the law and none could be allowed to take law into his hands. He made it clear that we wanted Qisas according to law. He said that it had been stated dozens of times by the police officers and others that they were ordered to shoot in Model Town by none other than the Chief Minister Shahbaz Sharif himself and their recording to that extent was existed. He said that the ministers and advisors were ready to become approvers.
Speaking on the occasion, Allama Raja Nasir Abbas said that the Shitte community had been a victim of terrorism and oppression for last many decades. He said that such repression would be eliminated through popular struggle. He made it clear that if the rulers were not held accountable, the Model Town tragedy would be repeated in every city and town of the country. He also appealed to leaders of other religious and political parties to play their role for establishment of rule of law and real democracy in the country.
Chaudhry Shujaat Hussain said that the days of the rulers in power had been numbered. He said that they wanted to spread anarchy and chaos in the country. He said that the shared struggle of PAT, MWM, PML-Q and SIC would result in elimination of oppression from the country.