Dr Qadri calls emergency meeting today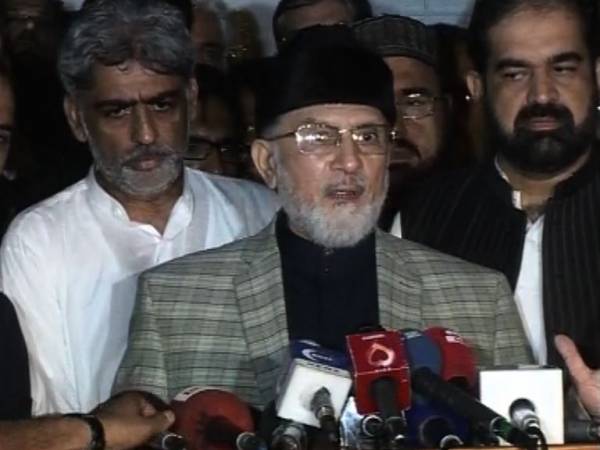 LAHORE: Pakistan Awami Tehreek (PAT) Chief Dr. Tahir-ul-Qadri said on Thursday that the Punjab government sought to turn Yaum-e-Shuhada into Revolution Day through their barbaric measures and brutal crackdown against the party workers across the province.
Addressing a press conference outside his residence in today's wee hours, Dr. Qadri said he had called an emergency meeting of allied parties today at Minhaj-ul-Quran International Secretariat, in view of the current large-scale police crackdown on the PAT activists.
Stressing upon the workers of all allied parties to stand steadfast in their struggle for the rights of the poor, Dr. Qadri said the violence and crackdown has been let loose against the workers across Punjab. He continued, "The workers of PAT, Q-League, Majlis Wahdat-ul-Muslimeen (MWM) Pakistan, Sunni Ittehad Council, have remained resolute and dedicated thus far and will remain so in the coming days, too."
He warned the intense violence by Punjab police against the activists might redirect the Yaum-e-Shuhada to become the Revolution Day; hence, police personnel should take care and caution before taking up any measure in this regard.
The government should allow Yaum-e-Shuhada to be observed peacefully, he demanded, adding the process of arrests of the workers should immediately be halted.
It should be mentioned here that the PAT and its allies decided to observe Yaum-e-Shuhada (Day of Martyrs) on August 10 in commemoration of martyrs of Operation Zarb-e-Azb and Model Town Tragedy.
In their bid to arrest the PAT workers, the police, he informed, barged into their houses, mistreated the women and manhandled the elderly with grossly abusive language.
All the pathways around Minhaj-ul-Quran International Secretariat, have been sealed off with heavy police contingent forming cordon by erecting pickets in the area, Dr. Qadri asserted.
Addressing the Punjab police, the PAT leader encouraged them to defy unwarranted directives by refusing to comply with them, as Revolution would force its way ahead by demolishing and pulverizing every hurdle under its juggernaut.
Replying to a query regarding his potential house-arrest, the PAT chief insisted that he did not fear the arrest, underlining, "It would be utmost difficult for the rulers to move about, in case I was arrested." –SAMAA
Source: http://www.samaa.tv/pakistan/07-Aug-2014/dr-qadri-calls-emergency-meeting-today
Source : http://www.samaa.tv/pakistan/07-Aug-2014/dr-qadri-calls-emergency-meeting-today