ARY News: Zardari calls Qadri to discuss revolution march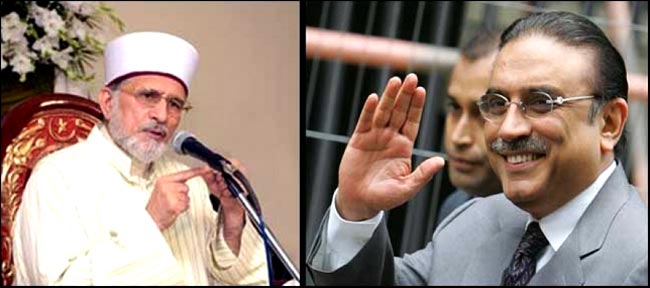 KARACHI: Former President Asif Ali Zardari on Wednesday exchanged words with Chairman Pakistan Awaami Tehreek (PAT) Dr Allam Tahir-ul-Qadri via telephone call and discussed revolution march, ARY News reported.
According to sources, co-chairman of Pakistan People's Party (PPP) Asif Ali Zardari called Tahir-ul-Qadri twice.
During the talk Zardari offered condolences to the martyrs of Model town incident and prayed for their forgiveness.
Zardari advised Tahir-ul-Qadri to eliminate differences by reconciliation and dialogue avoiding any move that can result in the instability of democracy.
Sources said that Dr. Allama Tahir Ul Qadri made it clear that his struggle is for constitution and democracy but the current system cannot be termed as democracy adding that revolution in the system is need of hour to empower public.
Earlier, Asif Ali Zardari also called Imran Khan, Siraj-ul-Haq and Asfandyar Wali.
Source: www.arynews.tv
Source : http://arynews.tv/en/zardari-calls-qadri-to-discuss-revolution-march/