Sharif family planning to flee Pakistan: Dr Tahir-ul-Qadri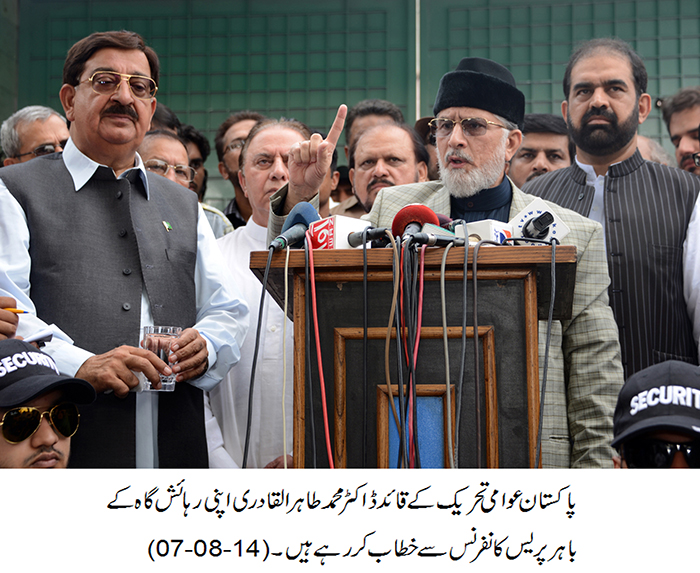 Pakistan Awami Tehreek (PAT) chief Dr Muhammad Tahir-ul-Qadri has said that the Sharif family has planned to leave the country for the US after having been frightened of upcoming revolution. He said that the rulers had lost the war psychologically, adding that Saudi Arabia refused to give asylum to the Sharif brothers. He said that a democratic country like the UK was not ready to accept them and they had submitted an application with the US to seek political asylum. He made it clear that there was no need to put his name on ECL, adding that he would not leave the country without bringing about revolution. He said that oppressor, terrorist rulers and the economic killers of 180 million people would soon be behind the bars. He said that he had come to rid the nation of rule of repression, establish real democracy and restore supremacy of the Constitution. He said that the people would not let the cruel rulers to run away from the country.
Dr Tahir-ul-Qadri expressed these views while addressing press conference in front of his residence on August 07. Dr Raheeq Abbasi and Khurram Nawaz Gandapur were also present on the occasion.
He asked as to why preparations of the rulers were afoot to flee the country at a family level? He said that he had not given call for revolution yet and only announced the observance of Martyrs Day on August 10 and the rulers had completed preparations to flee the country. He asked if it had been an official visit, why they would have submitted an application to take their domestic support staff with them. He also handed over the application of MNA Hamza Shahbaz Sharif among the media men that he submitted to the American Embassy for the purpose. The application contained names of the family servants including Maryam Nazir, application no LHE-12017186, Nasreen Bibi, application no LHE- 12017188, Fozia Amir, application no LHE-12017189, and Farast Hussain, cook, application no LHE-12017184.
Dr Tahir-ul-Qadri said that the application for processing of visas was submitted on July 15 after his arrival in Pakistan and the interview officers gave a date of August 18 for interviews but the Interior Ministry requested the American Embassy to set up date for the interview as early as possible so that the applicants could run away from the country. He said that those who taunted him over his Canadian citizenship should now tell as to who was escaping from the country for the US. He said that they were registering treason cases against him because they could see themselves behind the bars. He asked the workers and people of Pakistan to come out of their homes without waiting anymore. He said that crackdown had begun on them now, adding that the rulers would not get any safe passage to flee.
Request for Issuance of Visit Visa for Members of Personal Delegation of Hamza Shahbaz Sharif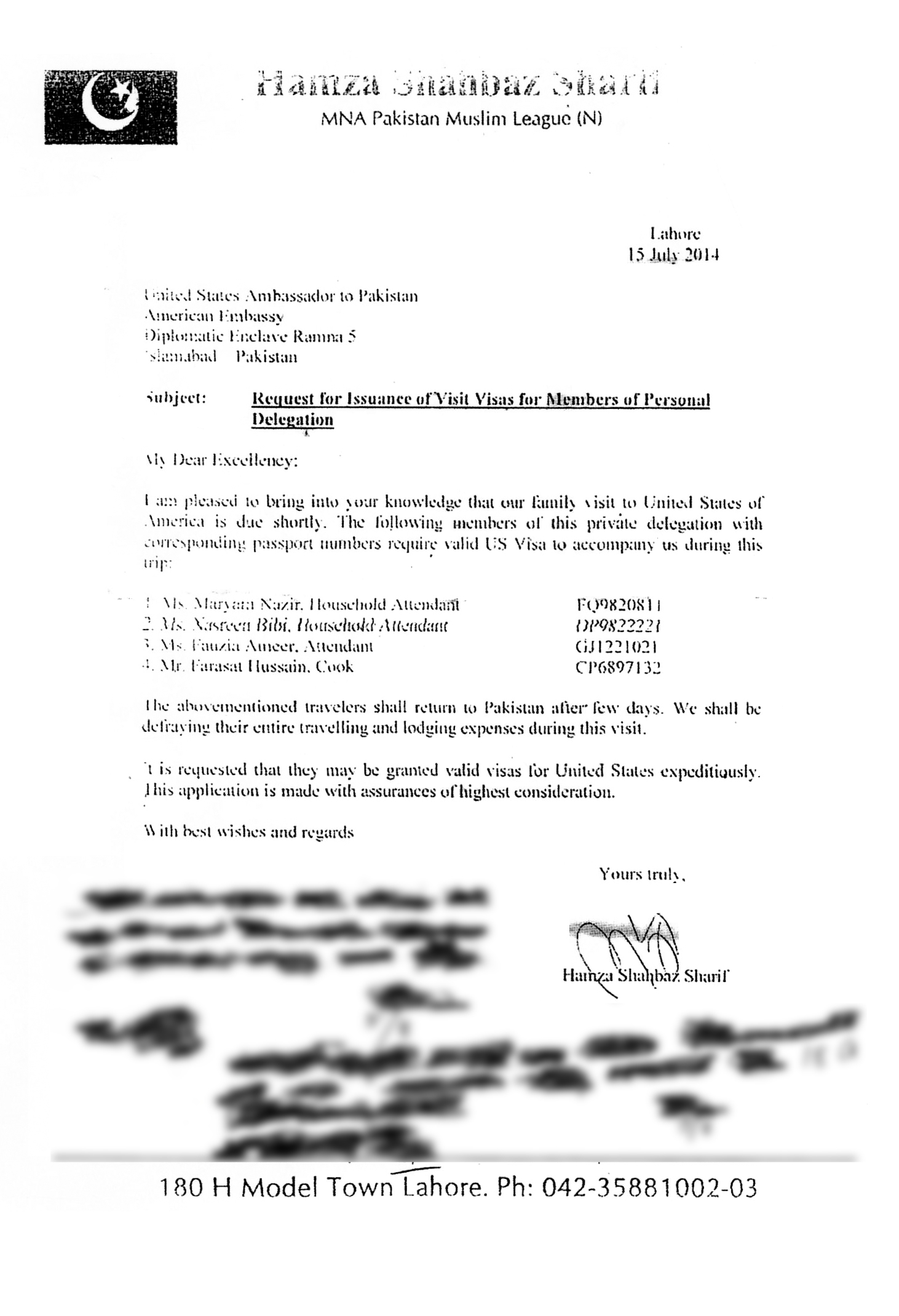 American Application Visa Reference No
Ms Maryam Nazir
[Amex No LHE 12097986]
 
Ms Nasreen Bibi
[Amex No LHE 12097988]
 
Ms Fauzia Ameer
[Amex No LHE 12097989]
 
Ms Farasat Hussain
[Amex No LHE 12097984]