Revolution march to take place on August 14: Tahir-ul-Qadri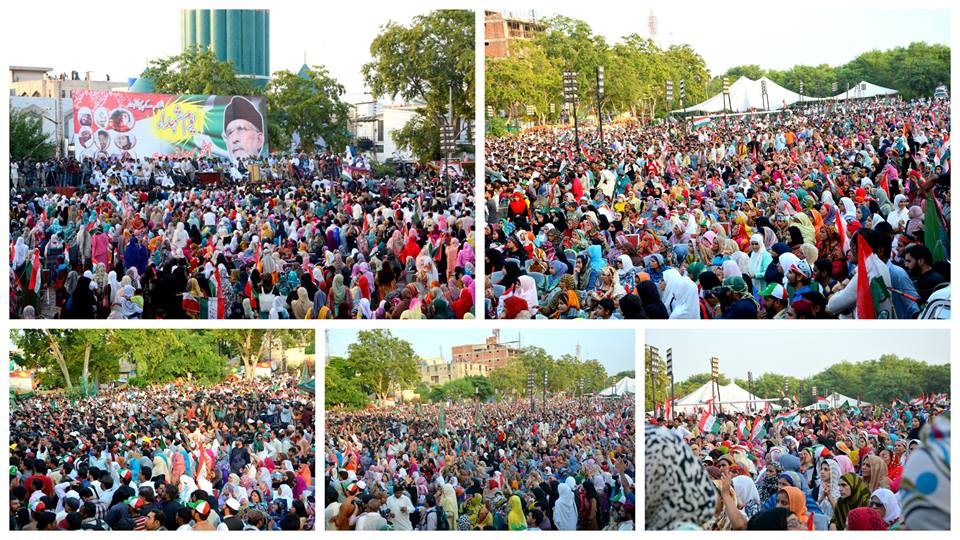 LAHORE: Chairman Pakistan Awami Tehreek (PAT) Dr. Tahir-ul-Qadri has announced that his revolution march will start on 14th August, ARY News reports on Sunday.
Dr. Tahir-ul-Qadri, while addressing the gathering on Youm-e-Shuhada at Minhaj-ul-Quran Secretariat in Lahore, has said that people will stay at the venue for three days where "Quran Khwani" will be held for the victims of the Model Town incident.
He added that the revolution march will join Pakistan Tehreek-e-Insaf 's Azadi March on 14th August and will head towards Islamabad.
PAT Chairman prayed for the welfare of the country before starting his address.
He claimed that government has made plans to kill him. He added that he was not afraid of getting killed.
Qadri further said that different cases are being filed against him each day. He also said that the First Information Report (FIR) of the killing of their workers has not been filed yet.
"We oppose every kind of terrorism and will rest after cleaning the country from terrorists", Qadri said.
He further said that the federal government is always busy in making plans against Pakistan Army who is protecting the country. He added that they want to give military a new spirit by changing the system.
"Brace yourself for the revolution and break the hands of opressors. We will sent the opressors back to protect the struggle', PAT Chairman said.
"If I become the target of Sharif brothers' conspiracy. Don't spare them and avenge my killing", Qadri further said.
Tahir-ul-Qadri thanked the leaders of Pakistan Muslim League – Quaid (PML-Q), Pakistan Tehreek-e-Insaf (PTI), Awami Muslim League (AML), Muttahida Qaumi Movement (MQM), Majlis-e-Wahdat-ul-Muslimeen (MWM) for attending the ceremony.
Source: http://arynews.tv/en/revolution-march-to-take-place-on-august-14-tahir-ul-qadri