PAT revolution march: Qadri to present charter of demands at 4PM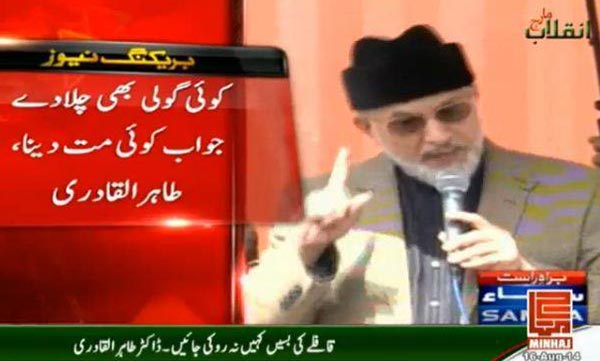 Qadri was addressing the supporters of revolution march in Islamabad.
ISLAMABAD (Dunya News) - Addressing the Revolution March, Dr Tahirul Qadri said he will not leave his supporters until the success of revolution.
Qadri said he will present his charter of demands and reforms at 4PM. "I will explain what revolution is and what will be the outcome of it" Qadri said.
Addressing the workers, Qadri said "I have just come here to salute my workers, my comrades, my brothers and sisters, my son and daughters of the land of Pakistan on their great contribution to this inquilab march."
"I want to inform you and want to say it very loud and clear that we were besieged in Lahore for ten days."
"We don't believe in militancy and aggression. We don't believe in any kind of terrorism." Qadri added.
He said medicines, water and food wasn't allowed to reach from outside because of which one of the workers died.
"We were and we are peaceful", he reiterated.
He said PAT was holding talks for the last three days with the Islamabad administration. He said PTI succeeded in getting the venue before them.
Pakistan Awami Tehreek chief Tahirul Qadri arrived in a bulletproof vehicle around 1:50pm on Suharawardi Road near Aapara in Islamabad.
PAT activists and supporters gathered at the Suhrawardi Road near Abpara area of Islamabad to stage the protest rally against Prime Minister Nawaz Sharif's government. The preparations for the rally are in process. PAT workers told the media that Tahirul Qadri will be addressing the public once the stage has been set up and it might take up to two hours for preparations to complete.
Thousands of Qadri's followers have assembled at the sight of the rally while many still continue to join in. Apart from men, the crowd includes women and children amassed in large numbers. The crowd has wisely brought along basic items for use in times of need.
The over-zealous marchers spent the night at the Suhrawardi Road despite heavy rain last night. According to PAT workers, Qadri is feeling better and would make a public speech in the afternoon today.
The first buses of Pakistan Awami Tehreek's (PAT) 'Revolution March' entered Islamabad last night. The PAT rally entered Islamabad via Faizabad Interchange.
Thousands of PAT workers raised slogans against the government as they stormed the federal capital on buses, motorbikes and cars. The workers stood over containers to announce their arrival in Islamabad.
Source: http://dunyanews.tv/index.php/en/Pakistan/232792-PAT-revolution-march-Qadri-to-present-charter