Dr Tahir-ul-Qadri presents his charter of demands before marchers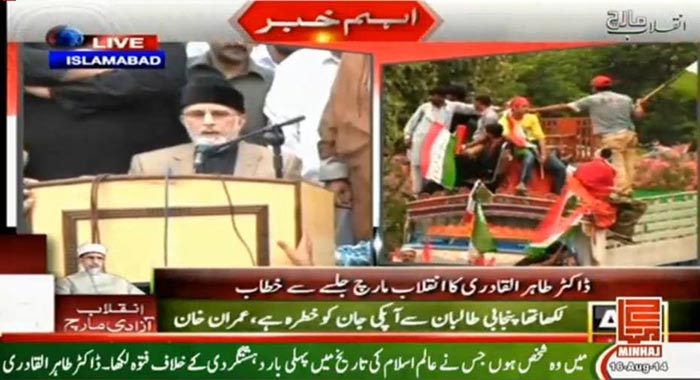 In his keynote address to the hundreds of thousands of participants of the revolution march at Khayaban-e-Suharwardi on August 16, PAT leader Dr Muhammad Tahir-ul-Qadri put forward his charter of demands and reforms. Before formally starting his speech, he made two important announcements. One, he said that an Additional District and Session Judge in Lahore ordered the registration of FIR against the 21 accused of Model Town incident including the Sharif brothers. He asked the police to implement the court order immediately, failing which police will be held responsible. He demanded that both Prime Minister Nawaz Sharif and Chief Minister Punjab Shahbaz Sharif should immediately step down from their offices and face the law over their role in the Model Town killings.
Secondly, Dr Qadri appealed to owners of nearby markets, food outlets and shops to open their markets for the participants, saying that they were their brothers and sisters who were waging a struggle for restoration of their rights. He assured them that the participants were peaceful people and he gave personal guarantee in this regard.
Dr Tahir-ul-Qadri made the following submissions and presented his set of demands in an emphatic tone.
The souls of 14 martyrs of Model Town ask why were we killed and for what crime?
If we could not get justice for 14 martyrs, how could we take 'Qisas' of anyone in Pakistan according to law and the Constitution?
Nawaz Sharif and Shahbaz Sharif should tender their resignations as a result of massacre in Model Town.
After their resignations, Nawaz Sharif and Shahbaz Sharif should be arrested like common people. No bail is granted in a case of killing.
Participants of revolution march will stay here till resignation and arrest of Sharif brothers.
The names of Sharif brothers should be put on ECL. If anyone helps them escape, he would not be spared.
National and provincial assemblies should be dissolved as they were unconstitutionally established.
These assemblies came into being in violation of Articles 62 and 63 and they were full of tax defaulters, thieves and robbers.
New National Government should be established after dissolution of the assemblies and the end of unconstitutional government.
Newly established National Government should conduct strict and merciless accountability of every person who has been involved in corrupt practices in this country.
National Government should implement 10-point agenda of people's welfare to steer the nation out of poverty in which it has been stuck for last 66 years.
According to this agenda, every homeless person should get a house of five and three marla.
Every jobless person should be given a job or employment allowance.
Flour, ghee, rice, cooking oil, milk and sugar should be provided to the people with low income at half of their price.
Taxes and duties on bills of electricity, gas and water should be abolished for the poor.
The poor should be given free medical facilities under national health insurance scheme.
Education up to matriculate should be compulsory and free under a uniform educational system so that the people could not keep their children deprived of this basic right.
Official land of Pakistan should be distributed among the peasants and landless people.
Sectarianism, militancy and terrorism should be eradicated wholly and comprehensively.
Women should be given employment in the form of small industrial units. All anti-women and discriminatory laws should be done away with.
The difference between salary packages of the public and private sector employees of different grades should be minimized to every possible extent.
The foundation-stone of participatory democracy should be laid by carving out new provinces on administrative basis that should deliver rights to the people at their doorstep.
We want such a system through revolution as is in vogue in the developed countries of the world.
No corrupt officer should be spared in this country and every corrupt official should go to jail.
There are two discriminatory laws for the poor and super rich elite that have got billions of rupees written off while in power. This system would not work in Pakistan anymore.
If democracy has to stay, then all state institutions would have to be subservient to law and the state.
If General (r ) Pervez Musharraf can be proceeded against for suspending Constitution, why can a case not be registered against those who suspended dozens of laws dealing with fundamental human rights?
We want to get restoration of rights of the people. We are peaceful people and reject militancy and terrorism.
We want to implement in Pakistan the system of the state of Madina where the Muslims and non-Muslims had equal rights.
A person who does not have access to food, clothes, shelter, employment, medical facility and education, how can his vote be free and independent?
We reject demand for mid-term elections, which will impose the same people on the nation under the present system. We want change through revolution.
I will announce time-frame for revolution march some time tonight.
Peace training centers must be established, peace and inter-faith harmony should be added in textbook syllabus of schools.
Minorities be provided with complete rights, equal citizenship no matter what religion they belong to. They will be given constitutional protection.
Devolution: Formation of more provinces including Hazara, Gilgit-Baltistan, South Punjab, FATA. At least 23 provinces should be formed for better administration. How and why should people of smaller cities have to travel to major cities for court appearances and other governmental affairs?
All national institutions must be depoliticized and stabilized.
Source: http://dunyanews.tv/index.php/en/Pakistan/232817-Revolution-March-Tahirul-Qadri-presents-charte