Qadri gives govt 48 hours; Khan quiet on timeline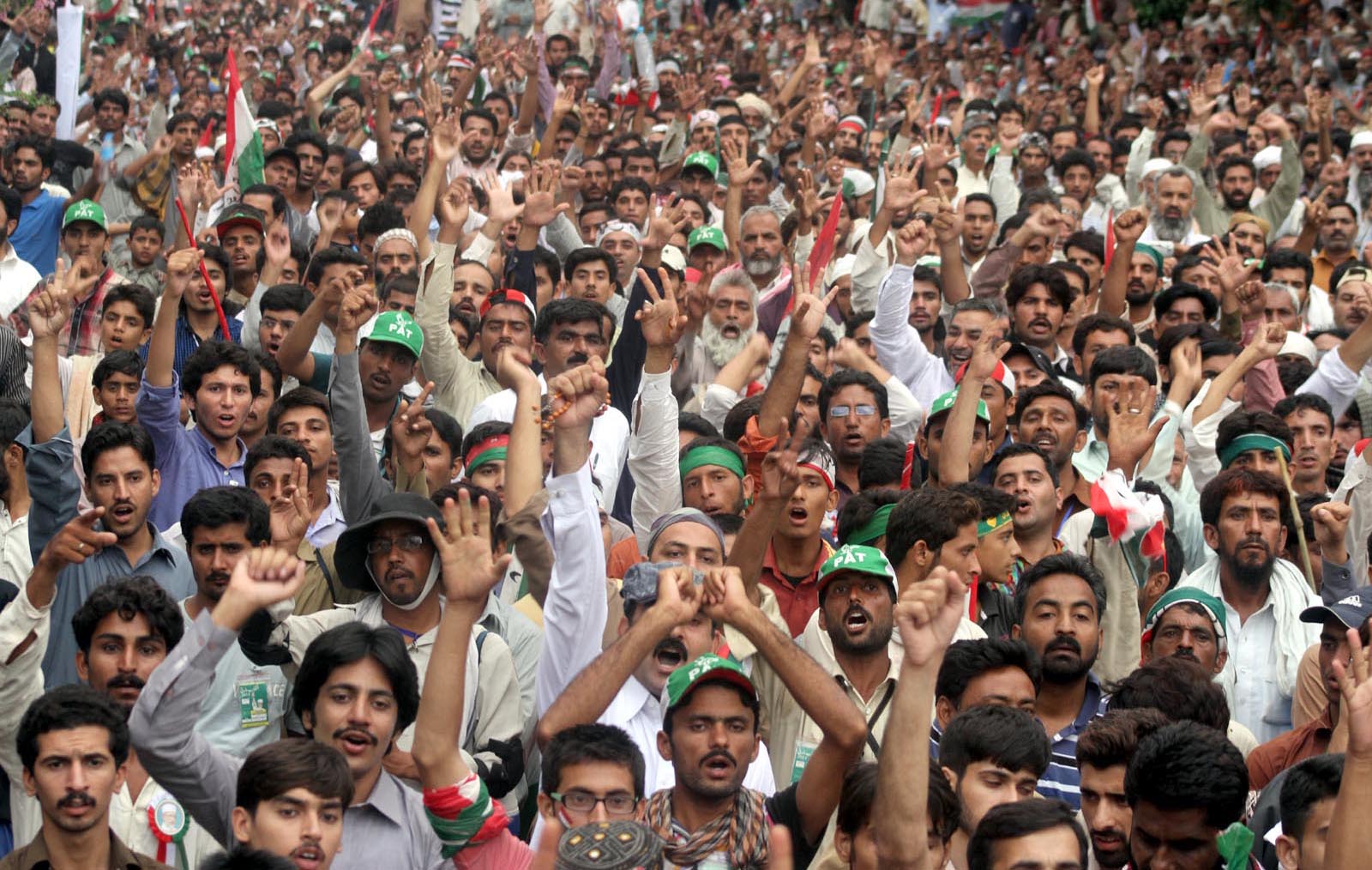 PAT chief says PM, Punjab CM and all govt ministers should resign, dissolve parliament and present themselves for arrests failing which he wouldn't be responsible for masses' reaction
Despite having differences over their charters of demand from the ruling Pakistan Muslim League-Nawaz (PML-N) government, Pakistan Tehreek-e-Insaf (PTI) Chairman Imran Khan and Pakistan Awami Tehreek (PAT) chief Dr Tahirul Qadri on Saturday separately reiterated their demand for immediate resignation of Prime Minister Nawaz Sharif, with the PAT chief giving the government 48 hours to accept his demands.
The PAT chief made the announcement while addressing his supporters at Khayaban-e-Suharwardy at midnight.
The preacher-politician said that Prime Minister Sharif, Punjab Chief Minister Shahbaz Sharif and all other government ministers should step down from their offices, dissolve parliament and present themselves for arrest within the deadline, saying the masses would decide the future course of action if his deadline was not met.
Qadri also urged the Federal Investigation Agency (FIA) and other government institutions to put the names of the Sharifs and other ministers on the Exit Control List (ECL) so that they could not escape the 'revolution'.
"We have information that former Punjab law minister Rana Sanaullah would be fleeing to England therefore I demand that the FIA do not let him board the flight and instead put him under arrest," he said.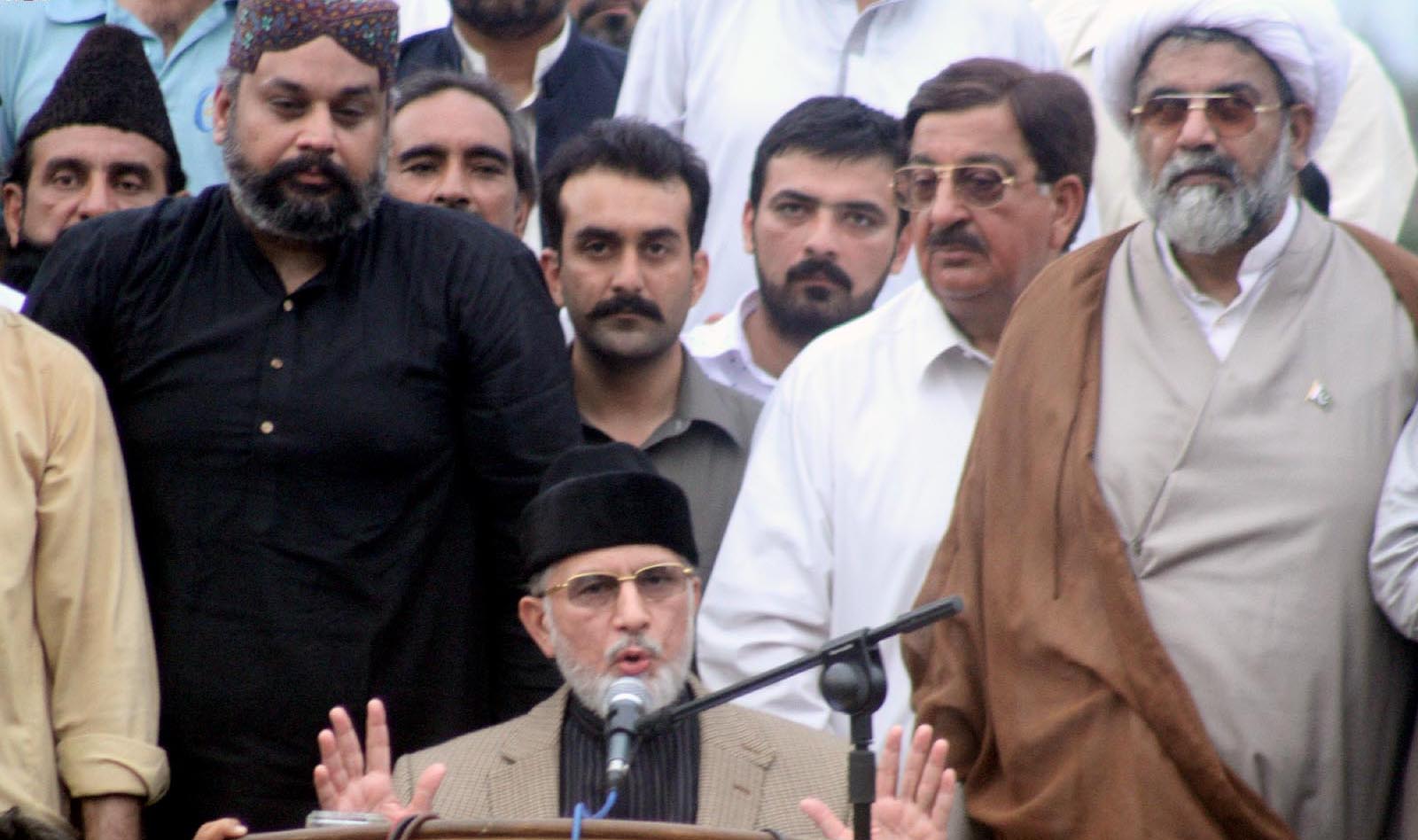 QADRI'S CHARTER OF DEMANDS:
Earlier in the evening, the PAT chief presented a broad charter of demands, seeking dissolution of federal and all four provincial governments.
Rejecting the demand made by PTI chief Imran Khan for mid-term elections, Qadri asked Prime Minister Nawaz Sharif and Punjab Chief Minister Shahbaz Sharif to immediately step down and present themselves for arrest for their alleged roles in the killings of PAT workers in Lahore's Model Town area on June 17.
"All national and provincial assemblies should be immediately dissolved as those in the houses have been elected in violation of the constitution. A national government for democratic reforms should be formed which should bring in good governance and hold all corrupt politicians accountable," he added.
A revolutionary 10-point socio-economic package should be announced for the poor and deprived people of Pakistan, said Qadri, adding that the state should ensure free medical treatment to people from low-income segments.
"Free education should be provided to all citizens while all edibles should be provided to the poor on half prices," Qadri said, adding that women should also have a share in economic empowerment.
"Sectarianism and religious fanaticism should be abandoned and no sect should be allowed to declare believers of any other faith as "kaafir" or disbeliever while no one should be allowed to import or export terrorism from Pakistan," Qadri said.
He also demanded devolution of powers and formation of new provinces for "better administration and good governance.
"Hazara, Gilgit-Baltistan, South Punjab and other administrative provincial units should be formed. All state institutions should be de-politicised."
Although Qadri claimed that his rally was more than a "million march", independent political observers believe the number of participants in the first day of the Inqilab March sit-in was between 30 and 35,000.
Source: http://www.pakistantoday.com.pk/2014/08/16/national/qadri-sets-agenda-khan-keeps-people-guessing/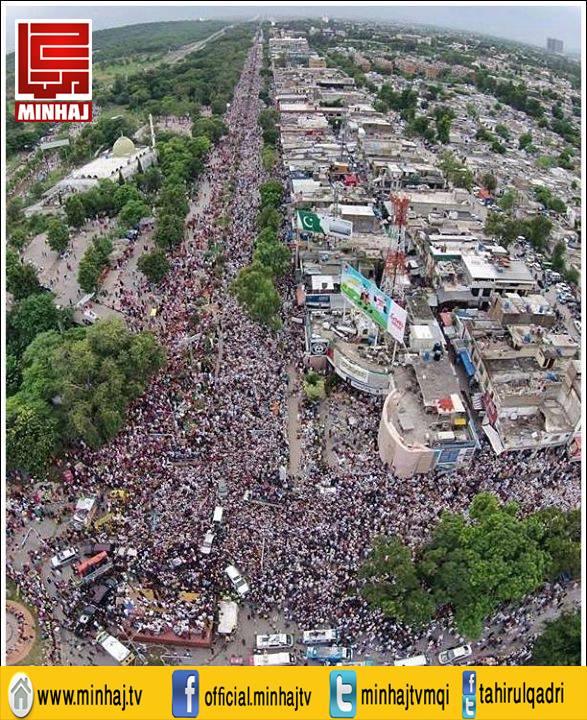 Source : http://www.pakistantoday.com.pk/2014/08/16/national/qadri-sets-agenda-khan-keeps-people-guessing/