No room for martial law; govt will last few hours only: Qadri
Rs5,200 bn smuggled abroad; Rs6,000 bn taken away illegally between 1985 and 2013; cartel of businessmen, bureaucrats and politicians looting nation; 10-point reforms agenda to bring revolutionary change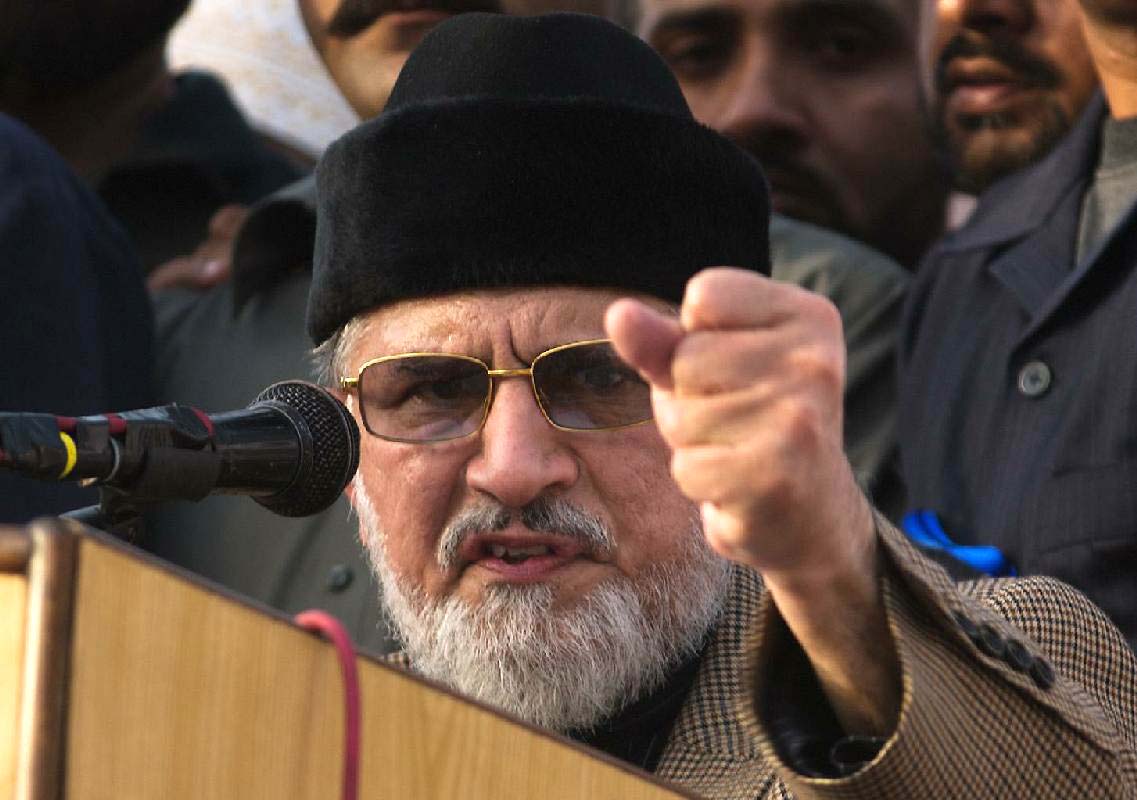 ISLAMABAD: PAT chief Dr Tahirul Qadri on Sunday said the country didn't need martial law, as the PML-N-led federal government would last only a few more hours.
Addressing his supporters at Khayaban-e-Suhrawardy, Qadri said they wanted a system in the country in line with the Constitution. He said there was no need to get loans from any other country.
He said the 10-point agenda of PAT could be implemented using our own resources, as the country had ample resources. The only need was to utilise them with sound planning and honesty.
"Owing to corruption and bad governance, a sum of Rs5,200 billion has been siphoned off from this country abroad. This amount was taken out during the one-year rule of Prime Minister Muhammad Nawaz Sharif, whereas Rs6,000 billion was taken away illegally from 1985 to 2013. Economically Pakistan stands high on the list of corrupt countries," he said.
Criticising the prime minister, he said the political temperature of Islamabad was increasing as the deadline had already been given but the prime minister was residing in Raiwind."It seems he wants to govern the country for the last time from his residence."
Elaborating the need to bring about revolutionary changes in the country, the PAT chief said he had done his homework to implement his 10-point agenda with his team of experts. "First, there is a need to control corruption and expenditure; we waste money and in the meantime avail ourselves of every opportunity to make fast bucks," he said.
Defining the current political system, he said three classes in the country — businessmen, bureaucrats and politicians — had formed a cartel to commit corruption."There is a dire need to break such groups which are damaging the country."
Qadri said under the current system, no one could get justice and equality, as it was based on corruption. "If one wants to bring change in the country, one must stand for revolution, as it is the only remedy to end corruption.
"We will bring a system in which every citizen will get equal rights, including education, jobs, medical facilities and easy justice."He said he also had plans to make IT valleys, playgrounds, clubs and the best educational institutions for the youth.
"We will make our youth our ambassadors who will work for this country," he added. Qadri said they would give equal rights to women, as they were a deprived segment. "We will empower them financially and will give them justice," he added.