Domestic resources sufficient to meet country's economic needs: Dr Tahir-ul-Qadri addresses revolution march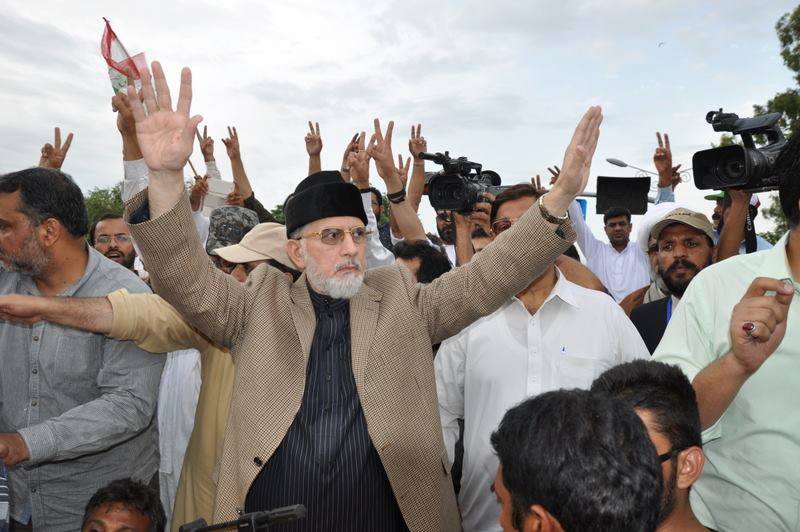 Pakistan Awami Tehreek leader Dr Muhammad Tahir-ul-Qadri has said that it appears that Prime Minister Nawaz Sharif wants to run his government for a few hours or days while stationed in Jati Umra. He said that he was a big supporter of democracy and that martial law was not acceptable to him under any circumstance. He said that if anyone was interested in holding a dialogue, he should do so with the participants of revolution march. He warned that if the Sharif brothers remained in power, the survival of the country would be in danger.
Dr Tahir-ul-Qadri stated this while addressing the participants of revolution march on Suharwardi road of Islamabad on August 17. Dr Tahir-ul-Qadri said that the Prime Minister had left the Prime Minister's House for Lahore and it appeared as if he would spend the last few days of his government in his palatial residence, Jati Umra. He said that none could eradicate corruption from the country under the present system, adding that the previous governments failed miserably to resolve issues of the people. He said that it was possible to run the state with our national resources and the way to achieve this was to bring about green revolution for which the people in their hundreds of thousands would stay encamped in Islamabad. He said that Pakistan military eliminated terrorism from the country and we would eliminate political and economic terrorism.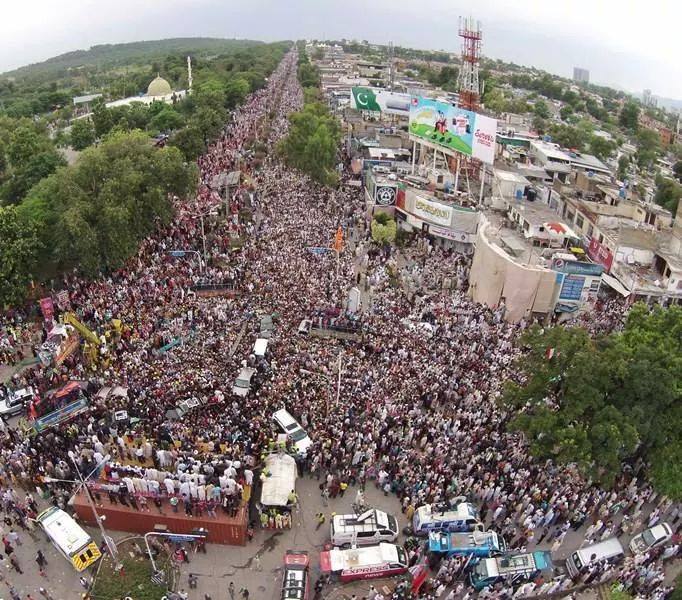 Defending 10-point agenda he presented on August 16 as a panacea to come out of multiple crises, Dr Tahir-ul-Qadri said that questions were raised on the charter of demands as to where the resources come from for resolution of people's economic problems. He said that he wanted to tell such people that he carried out extensive research together with distinguished economists for two years which established clearly that Pakistan had enough domestic resources to put itself on the trajectory of socio-economic progress and it would not have to borrow even a single dollar for this purpose.
PAT chief said that if PAT's 10-point agenda were implemented, the country would be able to save up to Rs. 4000 billion per annum, adding that none could contradict his assertion as it was backed by facts and figures. Throwing light on salient features of his reform agenda, he said that if current expenditures of legislatures were cut by half as part of austerity drive, it would save about Rs. 7 billion annually. He said that in the same way, if the new government reduced quantum of daily corruption by half, which was estimated to be Rs. 6 billion, it would save Rs. 1000 billion annually.
Speaking about taxation issues, Dr Qadri said that the national exchequer suffered an annual loss of Rs. 1800 to 2000 billion. He said that if reforms were carried out in the taxation system and tax collection ratio was increased to 25%, it would inject Rs. 500 billion into national exchequer per annum. He said that border areas of Balochistan and Sindh provinces were rich in mineral resources and added that if they were put to use, it would result in saving of Rs. 254 billion. He said that gold from Rikko Dek mines would alone provide Rs. 31.225 billion to the national kitty. He said that 300 million barrel of oil could be produced annually domestically.
He said that Gawadar port had the potential of generating income of up to Rs. 2000 billion annually. He further said that if 10% of Pakistanis paid their Zakat, it would generate Rs. 200 billion per annum, which could be spent on welfare of the poorest of the poor. He said that $200 billion of the ruling elite were parked in the Swiss banks and if the looted money of people was brought back, it would stabilize the national economy.
Source: Express