Dr Qadri announces countrywide sit-ins against govt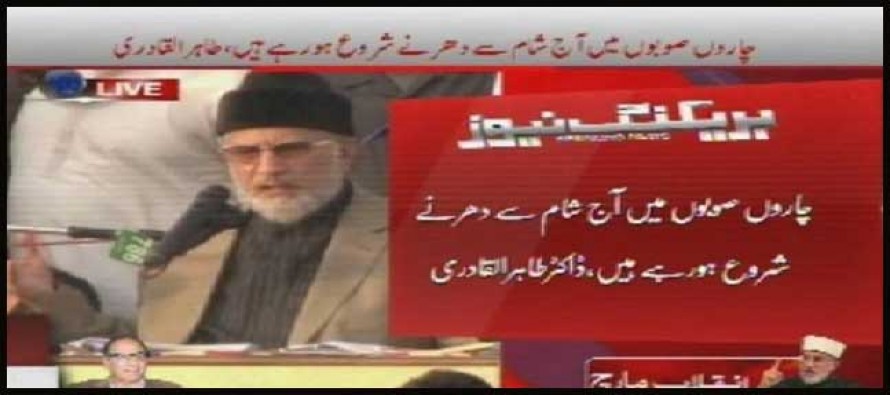 ISLAMABAD: Chief Pakistan Awami Tehreek (PAT) Dr. Tahirul Qadri on Monday announced to stage countrywide sit-ins across the country, in an attempt to press government to accept demands of resgination of the incumbent PML-N regime, ARY News reported.
Addressing supporters in Islamabad, the PAT chief said the long march will now not be confined to Islamabad alone. "We will neither backtrack nor compromise on legal demands. No dialogue will be held until Prime Minister Nawaz Sharif resigns."
He asked what government considered as democracy and constitution, when there was utterly no rule of law.
He said raids were being conducted at homes of his workers in Karachi following calls of country-wide protests.
He said Karachi which was considered a peaceful city had now become a violent city. Dr. Qadri said at least 20,000 people were kidnapped from a constituency of Sindh Chief Minister Qaim Ali Shah.
The PAT chief said he would chop off those hands, plundering wealth and rights of rural people in Sindh.
"I received seven letters from the interior ministry with each of them stating life threats to me from terrorist forces," he added.
Once my address completes, he said, all my supporters should sweep area where they are staging a sit-in. He praised participants of long march for demonstrating patience and discipline during their sit-in. He also heaped praise on PTI workers for their peaceful struggle for change of system in the country.
There was a brief disruption in Dr. Qadri's speech when a mic burst due to electric short circuit.
Source: http://arynews.tv/en/dr-qadri-announces-countrywide-sit-ins-against-govt/