Qadri announces to move sit-in towards Parliament House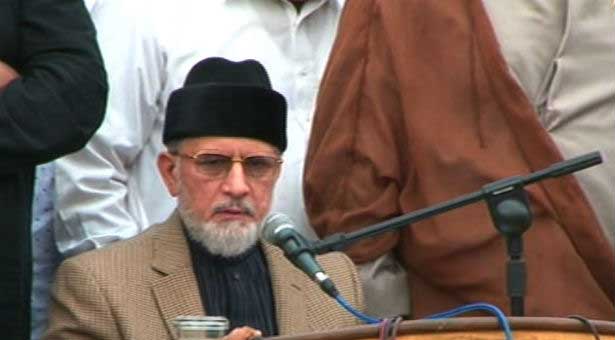 ISLAMABAD: Pakistan Awami Tehreek (PAT), Tahir ul Qadri Tuesday announced that his ongoing sit-in will be shifted from the present venue to the space before the Parliament House.
Addressing the participants of the PAT sit-ins, continuing in the capital city for the past five days, he asked: "Do you want to shift your peaceful sit-in before the Parliament House?" The participants replied in a resounding 'yes'.
He, however, took a pledge from the attendees of the protest to remain completely peaceful, non-violent and disciplined.
"No one must move towards Red Zone before I announce to do so," he asserted.
He once again held Prime Minister Nawaz Sharif and Punjab Chief Minister Shahbaz Sharif responsible for the 'killing' of 14 PAT workers in Lahore's Model Town.
"Will you go back home, if you didn't get justice on the killing of 14 colleagues," he asked and the participants replied 'No'.
Earlier today, an Anti-Terrorism Court issued non-bailable arrest warrants for PAT chief Tahirul Qadri and his 72 activists for allegedly injuring 53 policemen in Gujranwala.
The protesters answered 'no' to the following questions of Tahirul Qadri: "Is the government unconstitutional and illegal; will the Prime Minister go home without tendering his resignation; do you want the assemblies to continue functioning; do you want the rulers to keep on governing?"
He said no one will go even close to the vicinity of the embassies and the Supreme Court of Pakistan located in the Red Zone. "Not a single drop of blood should spill in Islamabad," he warned his marchers.
Tahirul Qadri assured the government that his protesters will remain peaceful and asked the authorities to remove containers and let the marchers go towards the Parliament House.
Meanwhile, contingents of Pakistan army have taken positions in the Red Zone, as earlier Interior Minister Chaudhry Nisar also announced that the government had handed over security of Islamabad's Red Zone to the military.
Source: http://www.thenews.com.pk
Source : http://www.thenews.com.pk/article-157275-Qadri-announces-to-move-sit-in-towards-Parliament-House