Punjab CM, govt responsible in Model Town massacre: Qadri
PAT chief asks Nawaz, Shahbaz to resign immediately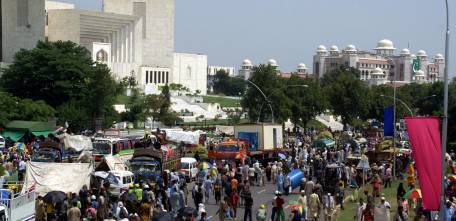 ISLAMABAD - Pakistan Awami Tehreek (PAT) chief Dr Tahirul Qadri has said that the joint investigation team (JIT) in its report has declared Punjab Chief Minister Shahbaz Sharif and the provincial government responsible for massacre of 14 workers including two women in Model Town.
In an inflammatory speech in front of the Parliament House, he said that now the issue would not be simply resolved with the resignations of Prime Minister Nawaz Sharif and the chief minister, but only with their hangings. Dr Qadri said that the Punjab government kept the report in hiding for the past 17 days, yet the private TV channels somehow got it and made its important points public.
He said that hiding of the report itself speaks the provincial government was guilty in the Model Town tragedy that was why it using delaying tactics to make the JIT report public. He said that one-member tribunal declared Shahbaz Sharif and the Punjab government responsible for the massacre at the Model Town on June 17. The PAT chief paid glowing tributes to the electronic media for exposing the murderers of his party workers.
He said after the JIT report, it was now proven that Shahbaz Sharif and the government of Punjab killed those 14 PAT workers. He said that the prime minister could not escape as well because such a decision could not be made without consultation between the two brothers. Qadri questioned where the constitution was, what kind of democracy and humanity it was that the poor were going door-to-door for justice, but no one was ready to listen to them.
"We do not acknowledge this democracy and asked the rulers that your democracy is different from ours," he said. The PAT chief said that there was no one to provide relief to the poor and helpless, hospitals did not provide medicines, and food was out of reach, while there was no security of the life and honour of the people. He vowed to end the looting of public wealth and usurping of the rights of the people.
He said that the chief minister lied before the people that he ordered to disengage the police from the Model Town; this point was added by the lawyers in the statement which was submitted to the tribunal. Qadri demanded that both Nawaz and Shahbaz must resign and hold themselves accountable before the law.
"Is there anyone who will listen to the orphans of the Model Town martyrs? I have always said that the martyrs have won, while the murderers have lost," Qadri said. It was better to die from bullets by the ruling class rather than by hunger, he said.
Source: http://www.dailytimes.com.pk/national/26-Aug-2014/punjab-cm-govt-responsible-in-model-town-massacre-qadri
Source : http://www.dailytimes.com.pk/national/26-Aug-2014/punjab-cm-govt-responsible-in-model-town-massacre-qadri