Qadri appeals his followers to remain calm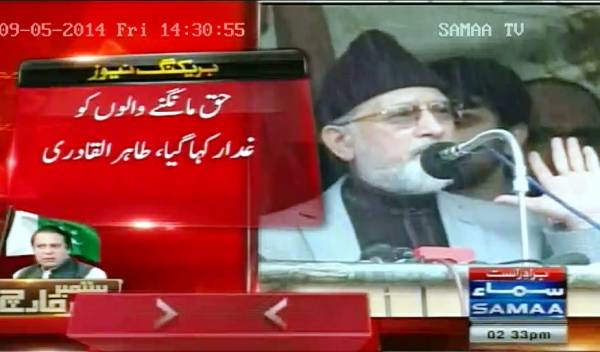 ISLAMABAD: Pakistan Awami Tehreek (PAT) Chief Dr. Tahirul Qadri Friday appealed participants of the sit-in to remain calm in the hard times.
"Seek Allah's help in these testing times…He will help you," Qadri told his followers while delivering Friday sermon atop his container outside the Parliament House.
He said that no parliamentarian came here yet to listen to the grievances of the sit-in participants.
"You have been called as rebels and terrorists in the parliament…..you are not rebels but those who are seeking protection of their rights," the PAT chief said. -Samaa
Source: http://www.samaa.tv/pakistan/05-Sep-2014/qadri-appeals-his-followers-to-remain-calm
Source : http://www.samaa.tv/pakistan/05-Sep-2014/qadri-appeals-his-followers-to-remain-calm