All Pakistan Women Council Meeting
Minhaj-ul-Qur'an Women League Pakistan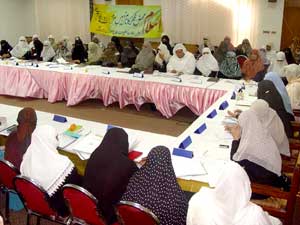 By the Blessings and Mercy of Allah Almighty, on 20th May 2007, at the conference hall, Central Secretariat Minhaj-ul-Qur'an International, a women co-ordination council meeting was held by the Central Minhaj-ul-Qur'an Women League Pakistan. All of the tanzimaat (branches) came from near and far areas of Pakistan. This ijlaas (meeting) gave an excellent indication of the speed in which the network of the women league is spreading all over Pakistan, Alhumdulilah.
The ijlaas commenced with recitation of Holy Qur'an at 10:00am.After sending salutations on the Holy Prophet (PBUH) and a beautiful nasheed, the meeting was conducted beautifully by Musarat Bashir (Central Naib Nazima Women League). Introductory words were said by Ayesha Shabir (Central Nazima Tanzimaat), who said a warm welcome to all tanzimaat who were present there. Then a brief introduction was made by each tanzimaat who presented their names, designations, area or locality etc.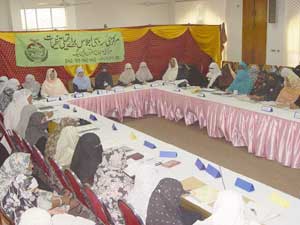 The first agenda point to be discussed was a review of the working reports for the last three months. It began by Ayesha Shabir (Central Nazima Tanzimaat) who told the working report of the women league directorate tanzimaat to the audience. Her briefing had an inspiring and motivational touch when she informed everyone how the Nizamt-e-Tanzimaat has achieved more than its settled targets. The most prominent of these was the target of making 55 new tanzimaat all over Pakistan which was superseded by the creation of 65 new tanzimaat within a few months.
This report was followed by Razia Shaheen (Central Nazima Dawat), who briefed the tanzimaat about the efforts of Nizamat-e-Dawat during the blessed month of Rabi-ul-Awal. Her briefing was excellent when she informed everyone that approximately 542 Mawlid-un-Nabi (PBUH) programmes had been held all over Pakistan which is a great achievement of the Minhaj-ul-Qur'an Women League by the Grace of Allah Almighty and His Beloved Prophet(PBUH).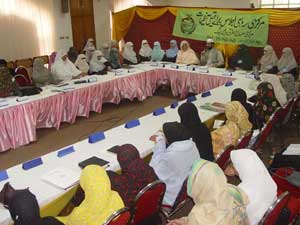 Then Fozia Shaukat (Central Naziam Tarbiat) gave a briefing about the achievements of the training directorate of the women league. She told everyone about the different training and learning camps being held at the Markhaz as well as in the field all over Pakistan. She also provided information on the current projects of designing guiding literature for the various Women League's as well as arranging many training sessions for workers as well as for the Central Women League team. Alhamdulilah all these efforts and achievements were appreciated by all present there.
After central women league's working report presentations, all sisters from the field gave briefings about their workings based on their guidance given by the Markhaz (Central Headquarters). This part of the meeting was a great source of inspiration for all those present. An opportunity for questions and reservations was given to all sisters which were clarified by Musarat Bashir (Central Naib Nazima).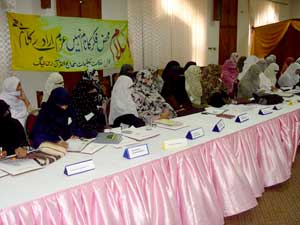 The next agenda point to be was discussed was the training camps that are scheduled for the summer vacations. Suggestions and opinions for improvement were conducted by Fozia Shaukat. She briefed the tanzimat about these camps, their schedules, routines, courses and arrangements. All the sisters present there gave very good ideas to make these camps ideal. All this lasted until 11:55 am.
The third Agenda point was initiated by Musarat Bashir, and dealt with by Razia Shaheen. She briefed everyone about the Mawlid Campaign 2007 and the house was open for discussion. The Tanzimaat gave very forceful opinions and discussed the campaign with great passion. The Mawlid-e-Mustafa (saw) and all efforts related to its celebration is the pivotal point of the efforts of all workers of Minhaj-ul-Qur'an. The Tanzimaat were extremely animated on this point and participated wholeheartedly during this agenda. This agenda point was covered till 1:00 pm.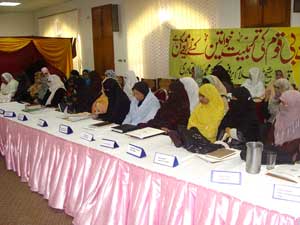 The next point on the agenda was taken by Ayesha Shabir as she briefed the tanzimaat about a very important new policy "THE CASSETTE EXCHANGE SYSTEM". In this briefing, she focused on this new system and its main objective. She informed all that this system consists of three things;
1) The head of the system
2) 10 Daeyeen/workers who will invite others to this system and organizing it
3) 50 cassettes of Huzoor Sheikh-ul-Islam Dr. Mohammad Tahir-ul-Qadri to be distributed.
The House was then left free for questions and answers to clarify each and every point about the system. Mrs. Ayesha Shabir & Miss Musarat Bashir entertained these questions after which there was a break for lunch and Salat-ul-Dhur.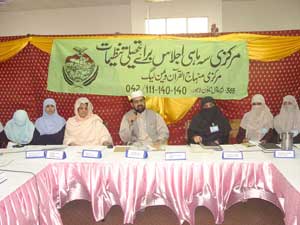 At sharp 3:00pm Dr. Raheeq Ahmad Abbasi (Nazim-e-A'ala Minhaj-ul-Qur'an International) gave his opening address by appreciating the work of all of the sisters and tanzimaat who have worked non-stop throughout Pakistan during the blessed month of Rabi-ul-Awal. He started his briefing by defining "who is a worker?" He stressed how we should be clear on the thought of the "Mission" and on the thought and dream of Huzoor Shaykh-ul-Islam (Leader of the Mission). He spoke on love for the Mission of Mustafa (saw) and our love for the great leader of this Mission. He gave a very motivational briefing that the main thought of this mission, the struggle for this mission and the love for this mission are through the hard efforts of Huzoor Sheikh-ul-Islam and are all inter-connected and which are part of the successful struggle for this Mission. Once again every eye was shining with tears.
The final Agenda point to be discussed was about the next working plan for July 2007-2008.
Finally Mrs. Farah Naz (Central Nazima Women League) spoke very powerful words which had a very enthusiastic effect on all tanzimaat as always. She commented on how we have a great love for each other, which permeates in us working as a team collectively and how we all are all really a single call from Markaz (centre). All of this and the full participation of the sisters is a result of the thought, efforts and motivation of Shaykh-ul-Islam. Through his lectures and books he has opened up the secrets of the beautiful relationship that exists between Allah Almighty and His Beloved Prophet (PBUH) and has told us how to aspire to have a similar relationship of love and beauty with Allah and His Rasool (saw). Mrs. Farah Naz then gave some instructions to the tanzimaat and entertained some miscellaneous questions and reservations raised by the tanzimaat. The Ijlaas came to an end by a Du'a said by Musarat Bashir.
May Allah give us a great love, jazbah and Istaqamah to devote ourselves truly for this Mission of Islam.
Amin Bajahe Sayyad-il-Mursaleen (sallala ho alai hi wassalam)
Reported by: Rabia Urooj Malik