Epoch-making Speech by Dr Tahir-ul-Qadri - An Oceanic public gathering at Minar-e-Pakistan
by Shaykh Abdul Aziz Dabbagh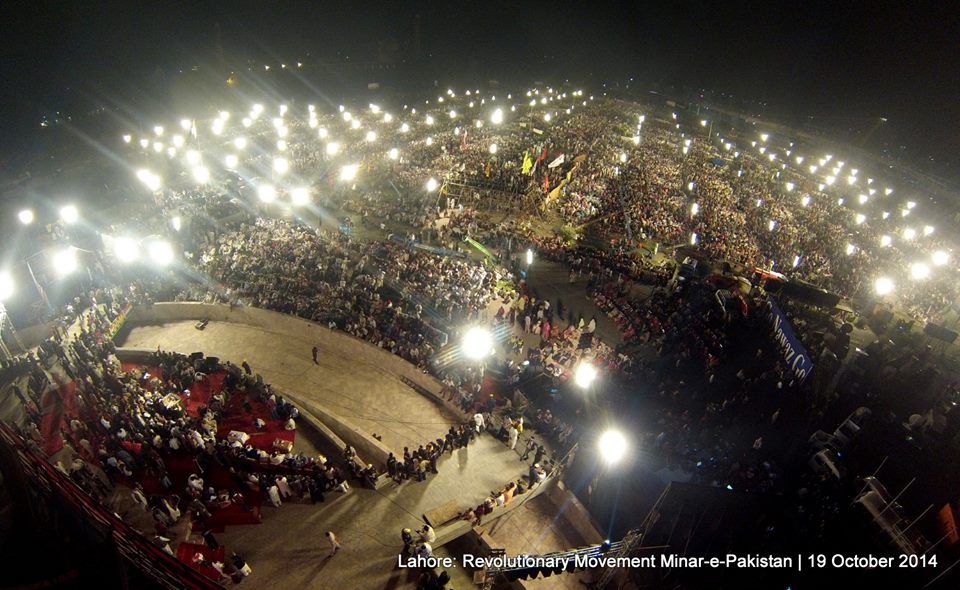 In the Name of Allah, Most Compassionate, Ever-Merciful.
Praying for the martyrs
Standing here at Meenar-e-Pakistan public gathering, I commence my speech with supplication for the martyrs emancipation—the martyrs of June 17, Aug 10 in Model Town & Aug 30 in Islamabad. Raise your hands & pray.
Tribute to the martyrs and heroic survivors
I submit my humble gratitude to Almighty Allah thousand times for enabling us to take out Inqilab March owing to the martyrs of Jun 17 & Aug 10. This further resulted in the longest ever sit-in in the world history completing its 65th day today. The sacred blood of the martyrs, the bullet riddled bodies of the workers & the patience, steadfastness and sacrifices of thousands of marchers—men, women, elders, youth, sons, daughters and mothers—in the Inqilab March and sit-in awakened millions of weak and oppressed people from slumbering in casualness, negligence and unconcern. They shook up the people of Pakistan from indifference to agonizing inflictions and lit a hope in the darkness of pessimism overwhelming the deprived have-nots. Making sacrifices, they roused courage and resolve in the hearts of downtrodden to rise against injustice and oppression. The weak felt a charge flowing in their vessels to retaliate coercion, exploitation and massacre. With their endurance & gallantry, they imbued in them a challenge to dare the status quo that has fettered them in slavery. I salute the greatness of the martyrs of Model Town, firm-footedness of the heroic survivors of D-Square mayhem and the patience, endurance and steadfastness of the men and women participating in the sit-in.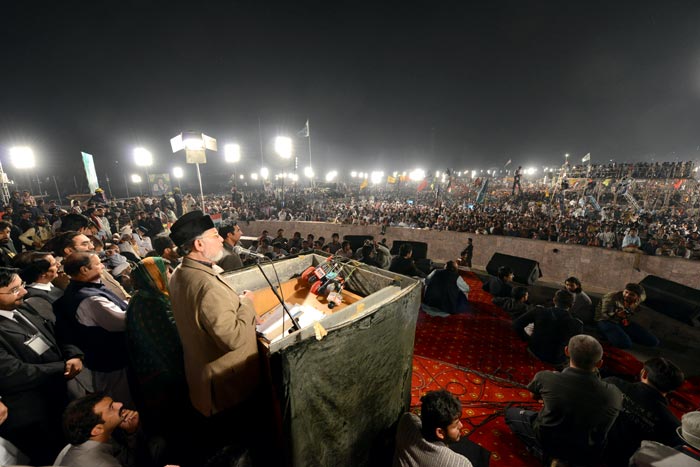 No Ramon Davis possible
The ocean of the Inqilab Marchers and their supporters, cohorts and fraternities that has collected here at Meenar-e-Pakistan is historic as well as history-making. It is taking Pakistan into a new era. This Mediterranean of revolution will sink the oppression & corrupt system run by loot-mafia. It will deck the destiny of 180 million people with the shine of calm and relief. I salute all of you. I call the rulers of Punjab and federation aloud: no one will be allowed to become a Ramon Davis in case of Model Twin martyrs. Ramon Davis killed Pakistanis and you allowed him to escape and flee through blood money. None of the rulers of this country can become a Ramon Davis.
Swearing on retribution
Meenar-e-Pakistan and the ocean of over a million people will bear testimony to what I say: The blood of Model Town martyrs will be avenged not recompensed. There must be some Satan behind rumors intending to pollute people's mind and opinion through media. Whoever is the Satan behind, must listen: No blood money for any Shaheed. Retribution is prescribed: a free man for a free man, a slave for a slave and a woman for a woman—through court and law.
Honorable citizens! Allah Almighty says:
"And there is a (guarantee of) life for you in retribution (i.e., vengeance of murder), O wise people, so that you may guard (against bloodshed and destruction)." Al-Baqara, 2:179
Retribution is realizing the sacrifices of Model Town martyrs; retribution is a hope for the millions poor and destitute masses; retribution is a formula of hopelessness for the brutes; it is the foundation of a bright Pakistan; it will erase poverty and deprivation from the country. Not a single ward of the Inqilab movement will feel at ease unless the martyrs are avenged. The rumours will die their death. You talk of millions to recompense blood—remember—I am the slave of the Messenger of Allah (SAW)—I aspire the crown of sacred shoes of Imam Zain al-Abidin over my head—I am the follower and seeker of Ghaus-e-Azam—your millions and billions be cursed billion times. The wealth of the whole world cannot purchase my shoes. Do not be mistaken! The martyrs' blood will not be settled by blood money. This matter will be settled by hanging the murderers to death. The rulers follow the path of oppression and injustice while we follow patience and peace.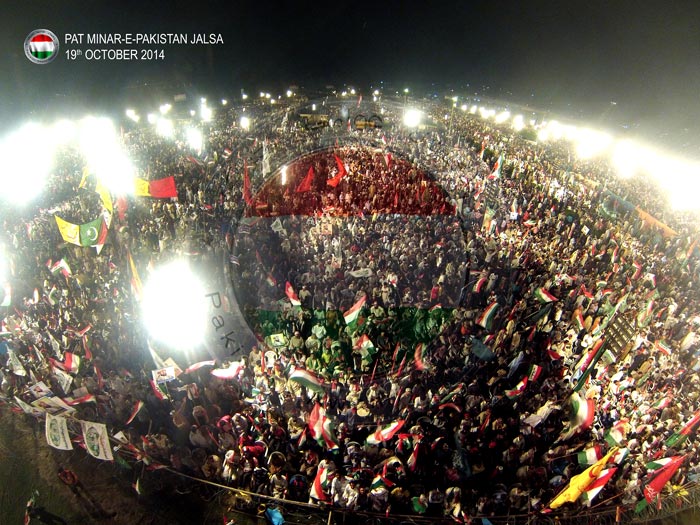 Lahore belongs to PAT
I extend my heartfelt felicitation to the leader of Muslim League (Q) Ch Shujaat Hussain, Allama Raja Nasir Abbas the leader of Majlis Wahdat al-Muslimeen, Sahibzada Hamid Raza the leader of Sunni Ittihad Counsil and then I congratulate Sheikh Zahid Fayyaz heading the team—PAT, MQI and all their forums—MSM, Youth, MWL—and thousands of workers. I congratulate all—while we were in sit-in, you have collected an ocean of people flowing over its shores that has filled all the streets of Lahore! You have made it vividly visible to the world that Lahore has voted for Inqilab in referendum. This is absurd to say that Lahore belongs to Muslim League (N). Lahore belongs to PAT; Lahore belongs to Inqilab; Lahore belongs to martyrs blood, to the new system. Lahore has rejected today status quo, the system based on corruption, the unjust and oppressive system. The Lahorites have given their verdict today by voting for Inqilab.
Rulers are brutes—inhuman torture
I want to show you the real face of the rulers. The police arrested our workers in such a great number that they fell short of handcuffs. Then they tied their hands with strings, packed them in prisoner-vans and took them around the streets to inflict on them maximum torture. That is what they mean by democracy, constitution and law. When the jails were filled up to their capacity by the PAT workers, the police detained them in illegal custody and made them stand in vehicles for long 18 hours. These were the orders of police authorities. Such a barbaric torture is unknown to history.
A heart-rending move by Sharifs govt
O upright and upstanding Inqilabies and Lahorites, now hold yourself! I want to share with you something heart-rending. It is a report published in an esteemed grade 1 newspaper. When the Inqilab March reached Islamabad, the rulers saw the numerical strength and apprehended that the teargas shells stock would prove insufficient for the planned operation against the Inqilab March. To kill, injure and disable the PAT protesters, the rulers imported 50000 poisonous gas shells from India. These shells were produced by Gun and Shell factory Calcutta running under the defense production ministry of India. These were the shells that were fired at PAT workers in Dharna that caused them long-lasting misery and trouble.
Rs.50bn for motorbus but 50% people deprived of potable water
The Punjab govt has spent Rs.50 billion on building the metro bus project but it does not accept that and asserts Rs.30bn were spent on it. The rest of Rs.20bn were embezzled. The situation is that 50% people are not getting potable water. The children are especially affected due to undrinkable water. They are taken to hospitals but they pass away. Had these funds been diverted toward health problems, hundreds of people suffering due to the unhealthy water would have been saved. Right now hospitals are overpopulated; there are no medicines and medical staff fall short. Giving you the glimpses of the corruption and rulers malpractice, I want to give you my own vision as to what Pakistan would look like when that stage comes.
The rulers are concluding contractors with the foreign companies to run buses in Pakistan as if no one can do this job in Pakistan. The cleanliness of Lahore has been contracted to a company named al-Barak of a Muslim country. Similarly, a contract is also being finalized with a foreign company for parking of vehicles in Lahore. This is the performance, competence and governance of these rulers. Pakistani people cannot even run buses. Nor are Pakistan capable of cleaning their own city. Nor can the citizens look after paring in the city.
Contract Loot Game—contracts yield money, commission, kickbacks and shares of partnership.
How can one comment on this way of running the governance? I will now give you my vision what Pakistan is and what it can be. Pakistan is the nation that has developed nuclear device and has become one of the eight atomic powers of the world. A nation that manufactures atomic device can neither run their buses nor clean their cities! Nor can it organize parking. Instead of letting people do these things, they are engaging foreign contractors for these chores. If they stay on, they will give the whole country on contract. Why contracts? Because contracts yield money, commission, kickbacks and shares of partnership. If Pakistanis do it, they cannot earn commissions that way. This indicates that they want to take us back into the East India Company era. Don't they trust Pakistani manufacturers? Don't they trust Pakistani traders? They talk of Pakistan's industry and development on the one hand and on the other give every small or big thing to the foreign contractors to do. This is maximum they can do to humiliate and degrade Pakistan. This is for no other reason except commissions and kickbacks.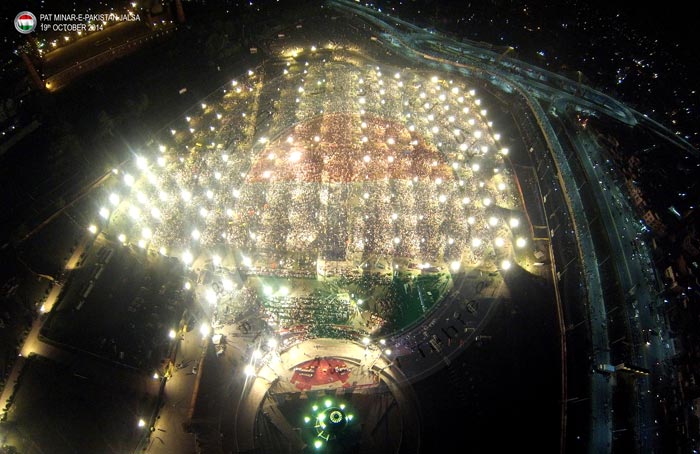 DrQadri's Vision
Now I give my people my vision as to what will happen after Inqilab. I draw before you a picture and it merits active attention.
Jinnahism— the only ism for Pakistan
Here I want to make a pertinent point. Many isms have been tried for Pakistan—communism, socialism, extremism, terrorism, mullaism—but there is no room for any more 'ism' in Pakistan except Quaid-e-Azam-ism or Jinnahism. The vision Quaid-e-Azam Muhammad Ali Jinnah gave for the future of Pakistan will only be implemented. What Pakistan is and what can it become if Inqilab transpires and if the right leadership rises as a result of Inqilab. I want to tell 180 million people and overseas Pakistanis that this country has been bestowed with colossal potential—so what Pakistan can become after Inqilab!
Lucrative location of Pakistan among four economic zones
Pakistan has the potential that, after Inqilab, every industry in Pakistan will yield gold. Pakistan holds such a position in the world that no other country can enjoy. It is located at the most important and unique cross roads. It is surrounded by four most significant economic zones. China, the greatest economic zone, central Asia another great economic zone, India in the east a great emerging economic zone, and the forth one is in the west, Iran, coupled with the connected middle east are the four zones—Pakistan lies right in the middle. There is no other country in the world so lucratively located but it needs a visionary leadership that can maneuver and earn her an exalted status in the world. China, the biggest economy of the world, Central Asia, for its technology and natural resources, India an emerging economy and Iran and Middle East countries are important due to their natural resources. But none of these zones can go forward with mutual trades without Pakistan's involvement. Without Pakistan, their dreams of economic advancement cannot be translated into reality. A leadership is required in Pakistan that would raise it into a tower or a lighthouse, which all the four zones would long to benefit. The best strategy for Pakistan would be to provide them transit facility to ease trade and benefit the provision.
Potential for transit activity and tourism
My vision finds Inqilab transpires and corruption is eliminated followed by the development of an excellent infrastructure. A communication system should form, with highways and other systems of transmission and transportation. Hotels of international standards should come up offering best facilities of food and lodging and other facilities that the people travelling from all these four zones may need.
At the same time, Pakistan has to be made peaceful with exemplary and ideal law and order conditions inviting traders, businesspersons, industrialists, investors and tourists from all over the world. This can put Pakistan in a position to earn millions of dollars foreign exchange. Pakistan can alleviate poverty only by learning a lesson to exploit its geo-strategic-political location right in the middle of the four great economic zones of the world.
Pakistan has also a great scope of tourism. Our northern regions offer the best sight-seeing presenting a landscape of paradise. There are places of religious significance, which can attract people of different faiths from all over the world. These include religious monuments and worship places of Hindus, Sikhs, Budhs and other religions. Pakistan has also places containing Greek heritage, the remnants of a millennium rule of Greeks in the region. Pakistan has lot many things to offer to the tourists, which even many of the Western countries do not possess.
Consumer Market
But Pakistan needs Inqilab and visionary leadership. Pakistan is the sixth largest populated country of the world and the biggest of Muslim world. By virtue of its population, it is a great consumer market. It offers a win-win situation to industrialists, manufacturers, service personnel, multinational companies, trading and business companies. We need to manipulate and make the sixth biggest population of the world a consumer market.
Pakistan's talent bomb
Pakistan is the world's eighth and in the Muslim world the only atomic power. As for human resources, it is one of the best courtiers of the world—doctors, engineers, bankers, and experts of other professions are highly talented and surpass US and European standards. The ground reality, however, is bitter. If the talented folk opt to live in Pakistan, they are demeaned but when they go to US or Europe, they prove their worth and earn laurels. The incumbent rulers of Pakistan are so dull and drab, they cannot keep or do not have plans or cannot have the plans to keep the talent within Pakistan and benefit their God-gifted qualities. Their ill-intention to loot keeps from doing any such good.
Vision of future Pakistan
My vision is that we earn a seat for Pakistan in the most important economic forum after G-7 called BRICS—acronym of five economies—Brazil, Russia, India, China, and South Africa. After Inqilab, we will take Pakistan to BRICS as this is the great emerging economy of the world. We will also take it to G-20 and ECO, Shanghai organization and will create an exemplary role for it in SAARC. Pakistan can be developed into Singapore, Hong Kong and South Korea. But before all that we have to, first of all, eliminate corrupt system and then raise the leadership Quaid-e-Azam versioned for Pakistan. My vision is to raise Pakistan to a status that people would say: There is no Asia without Pakistan. I am giving that slogan. May Allah enable us after Inqilab to make Pakistan a need of Asia! Rulers should recognize the status of Pakistan and must know that we are fighting for the true status of Pakistan. If the scientists and engineers are patronized, facilitated, accommodated and encouraged, they can make innovations and build new world. India and other countries are doing it and I vow I will not sit idle in taking Pakistan far ahead of India.
The scientists, engineers, professionals, technologists need to be exalted and honored. Unfortunately, the corrupt system and rulers abase them. They have to be facilitated so that they focus science, research and technology and make Pakistan advance.
I was talking to you about the state that gave us birth and brought us up. Now we are to bring up the state and nourish it. We are to make it progress and change it into a great country and nation.
Vision about the 180m people
Now I talk about 180m Pakistanis, the poor Pakistanis for whom I have my vision entrenched in my 10-point agenda that I am promulgating from Minar-e-Pakistan—our manifesto for elections and revolution. I give my word that as a result of revolution no homeless will remain without shelter; everyone will honorably get bread and clothing. No inhabitant of this soil will be deprived anymore of the necessities of life. Every unemployed person will get job and the poor and low-paid people will be provided ration items—ata, sugar, ghee, pulses, vegetables, etc., at half rates. They will also be given 50% relief in tariff rates of amenities and no taxes will be charged.
The poor masses will be given free medical treatment. Their sons and daughters will be provided with free education, books and stationery up to secondary school level. The grower owning no land will be given 5 to 10 acre free agricultural land. The women folk will be facilitated with self-employment by means of home industry and handicraft ensuring for them social and economic security. The discriminatory laws in practice against them will be revoked. The salary scales for govt servants will be revised and rehashed reducing the difference between different scales.
The Pakistani society will be protected against violence, sectarianism, extremism, terrorism. The whole country will be turned into a safe haven and an abode of peace.
Resources
All these measures are practicable as the requisite resources are available. The RekoDiq gold reserves contain gold worth 1000bn dollars. The Sundeck gold mine too contains gold worth billions of dollars. The platinum mines spread from Quetta to Ziarat contain platinum worth trillions of rupees. Similarly, all along the Iranian borders, there are oil reserves of billions of dollars. Gawadar port has the potential to meet the foreign exchange requirements needed for the advancement of Baluchistan as well as the entire country. The resources nature has blessed with Pakistan are infinite.
The rulers, however, are devoid of capability and competence, leave alone vision. They have failed to produce electric power sufficient to meet the needs of 180m Pakistanis leave alone business, trade and industrial development, common facilities, and stability.
Electric tariff loot
I declare the guarantee to provide electricity even to the small peripheries of far-fetched expanses of the country in 2 to 3 years. I have a comprehensive development project to fulfil this promise. The tariff rate in the time of Dictator General Musharraf was Rs.3.00 per unit. It rose to Rs.7.30 per unit in the Democratic period of ZardariPPP. In 2014, PMLN Democracy has enhanced the tariff to Rs.15.00 per unit + taxes, double of the ZardariPPP democracy tariff rate. They are in fact robbing us of everything!
Electricity shortage impending peril
Beware! The PMLN do not have any planning to generate electricity; they only tell lies and cheat people to complete their 5 year stint—God forbids. The daily electric consumption in Pakistan varies from 15 to 20 thousand MWs while we get from 12 to 14 MWs. Listen to me with care; I want to open up your eyes. NTDA [National Transmission development Authority] in its annual report has presented load forecast report in the coming years. Remember! You might be listening to it first time. According to NTDA report, the daily consumption requirement of the people will rise to 35 thousand MWs in the years 2017-18. I am presenting to my people the ground realities and unveiling the faces of fake democracy. The preceding and the incumbent governments have been working on total nine projects of electric generation. If at all these projects are completed by 2017, the present government will not be in power after completing their term. The painful fact is that when all the nine projects are completed they will generate only 5094 MWs against the consumption demand raised to 35000MWs in 2017. Where will the Pakistanis go? What will they do? Who will provide them electricity and whence? I put aside the corruption and loot they do; that will take lot of time. Here I give you the solution.
My Vision of devolution and dissolution of electricity crisis
12 methods of generating electricity
By Allah's Majesty! If they or their predecessors remain in power, the problem will never be solved. The first condition of its solution is the devolution of power from the major provinces down to the UC level wherever it is geographically, politically and economically feasible. Provinces should be carved at divisional level where it does not hurt territorial integrity of the country, and other allied problems do not hinder. I want to divide Punjab into 7 to 9 provinces. With the devolution, the power and authority will be delegated to grass-roots levels—from provinces to district governments to Tehsil governments to UC level governments. with assemblies CMs cabinets and administrative set-ups. This devolution will solve the electric problem. The methods so far adopted to solve the problem are not at all the solutions. To resolve the issue, we need to have twelve different solutions to apply anyone of them where applicable. I will give the nation electricity through these 12 means. But no federal government will intervene. There will be no WAPDA. All methods of corruption will be abolished. Power to generate, distribute, bill, receive the revenue all will be devolved down to UC level.
We will generate electricity through solar energy. This will meet the needs of small areas and localities. Making a large scale set-up generates problems not electricity and opens the door to corruption and dishonesty. The method I am talking about is being practiced in US and China. Wind power through wind turbines. It is in practice in India, Europe—Holland, at town and peripheral levels. Micro hydro projects of 25 MWs capacity. All water canals in Punjab can be utilized to develop hundreds of such projects generating electricity sufficient for the surrounding areas. We have thousands of canals but they are not being employed for the purpose. This is height of oppression and injustice. They lack competence, vision, intention and determination. Inqilab is the only solution. Micro hydro projects of 25 MWs capacity can be developed at all points where the canals pass by the districts. Tidal energy through turbines in the sea. This can be employed from Karachi to Gawadar along the coastline. Geothermal energy. Energy is obtained from beneath the soil after storing it. Organic and biological changes occur—ethanol, vegetable, gasoline, biodiesel and biogas—can be used as the source of energy too. All the regions will be self-sufficient and no white elephant—WAPDA—will be required. Solar lantern program is being used by India. The lantern lit by the battery charged by the solar energy is a useful source of light. Solar thermal energy—panels of solar energy are installed over-roof. National Biomass Cook stoves. Hay is used to produce energy which is both cheaper and effective. Grid-based Renewable energy is another effective method. India has established a ministry for these projects. Mini Biomass Power is another biomass cook stove type methodology utilized at small scale.
After Inqilab, when the power and authority will be devolved down to grass-roots level, and the people will be free of white elephants, and utilize resources and budget, Punjab will be no more responsible for a vast territory. All the towns of Lahore will be producing electricity themselves. Similarly, other districts like Faisalabad, Gujranwala, Sialkot, Rawalpindi and the Tehsils too will produce their own electricity with their own budget, resources, management, administration and consumption forecasts. This will be practiced all over Pakistan and every small village even the remotest nooks will be enlightened everywhere. Industry will have its plans. That will give a boost to production, trade and business leading to overwhelming prosperity. Unemployment will disappear and joblessness will vanish.
We can remove the electricity crisis but we have to erase the corrupt system and hand over the authority and control to Inqilab. To augment per capita income and enhance business, promote agriculture, trade and services, and industry we will develop projects at grass-roots level and the problems will be solved through revolution of devolution program.
The risk of corrupt rulers sticking to power
The rulers are stuck to power only for business, corruption, loot and plunder. They usurp the rights of the poor, the widows, orphan daughters and sons, keeping them illiterate, depriving them of shelter, clothing, bread and justice with the sole purpose to rob the national wealth and expand their business empire around the world enriching their accounts in Swiss banks.
Industrialists, traders, laborers, peasants, vendors of Lahore and Pakistan! Beware! If they stay in power, they will sink the country into the quagmire of extinction. Every day, they are doing irreparable damage to the state. Ninety million people are living below the poverty line. Finance Minister Ishaq Dar validated this bitter reality. How do they claim they are running a democracy? No way should they be in power! They must step down.
Homeless International
Homeless International reveals in its report that 2, 66,00,000 people in Pakistan are homeless. They do not even possess livable huts. The Homeless International also unfolds that 90 million Pakistanis are illiterate. The country where 50% of population are ignorant and jobless and do not have houses and rulers deciding their destiny are thugs and thieves, people will commit suicide or burn themselves. Joblessness in Pakistan is six time greater than it is in Thailand and three times more than Bhutan and Nepal. We are the most miserable country among SAARC. There is no planning for anything except corruption. They are making beggars out of them. Not a penny is spent on health. UN makes binding on every member state to maintain health budget more than 6% of GDP. Afghanistan spends 8.7% of GDP on health; Uganda spends 8%, Nigeria spends 7%, India spends 4%, Bengladesh 3.6% while Pakistan spends most miserly 1 to 1.5 % of GDP on health.
You the Champions of democracy, constitution and law and assembly or parliament, your system is nothing but a grand compromise on corruption. Your system sucks the blood of the poor and compels them to commit suicide. Your system is the name of eroding the state and devastating the country and its citizens. The poor have no share in your system, not even their rights, nor any share of their health. The children of the poor have been denied right to education. Nor the destitute can think of any share of bread, clothing and shelter. The system the oppressor rulers are running does not provide the weak and wronged any share of justice.
Tell me, O my people! If this loot-mafia remains in power, how long this country will survive under these circumstances? The peril hovering over our heads dictates: every one of us must become a revolutionary. Rise, upstanding for revolution, and collide with the unjust and oppressive system. I will take the revolution movement, the Dharna Tehreek to every city of every province. Dharna will be staged in every city as it has been orchestrated here today. This is Inqilab Dharna. Raise hands and stand firm to your commitment.
Pakistan buried under foreign debt
They do not have any right to stay in power also for the reason that they are running the economy on foreign debts and local bank loans. They are looting and cheating the people. Pakistan has been buried under a heavy foreign debt to the tune of Rs.6000bn. The investment by a neighboring country they are talking of too is 100% returnable just like laons. If that comes, the total volume of debt will rise to Rs.6100bn. If one places the loan so far taken in the form of 100 rupee notes in a circle around the globe, one will see 270 circles forming up the world around and if the same amount is placed vertically in the form of a column, it will tower as high as 7582 kms. The question is who will pay this debt back. They are incompetent; they have corrupted all the institutions of state and made them their personal slave. I give you two examples. Take WAPDA. I was there in Chiniot a few days back. The stage that was erected for me at Adda Pathan Kot was put beside the wall of a ruined house which had been destroyed by flood. The 80 year old lady residing in that ruin, Sughra Bibi, came on to the stage and showed me the electric bill of Rs,1,28,000/- served to her while she had hardly one electric bulb hanging inside. The SDO had taken Rs.2000 from the poor Mai Sughra as bribe but even then did not rectify the bill. However, when they learnt about my Jalsa there, the SDO himself corrected it and paid Rs.100/- showing the bill as paid. This is how the corrupt are running the system.
There is not a single institution in the country being run justly and honestly. Abdul Sattar Eidhi has been robbed of 90 million rupees and 5 kg gold. Burglary, robbery, mugging, stealing are common practice. They even kidnap and demand ransom or extort.
Credit goes to free media
I am grateful to the electronic media and print media. I congratulate the technicians, photographers, DSNGs, the staff, the administration, the owners, the anchors they have played a pivotal role in constructing the country and advancing the cause of Inqilab. They have awakened the dead and roused them to stand on their feet to fight the war of human rights.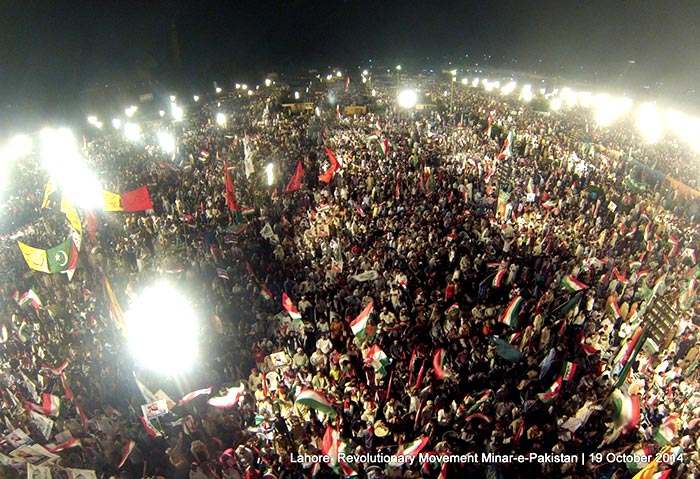 PEMRA—Oppression & Coercion against free media
The credit goes to media, print or electronic, because they were free. Media were raising the voice of truth. However, the rulers are going to fetter the media. Free media is their greatest enemy. PEMRA is the regulating authority of all the print and electronic media in Pakistan. See the rulers' intention, competence, capability and designs! PEMRA has to have a Chairman but they have not appointed any permanent Chairman PEMRA to date. High Court and then the apex court have been time and again advising the rulers to appoint a permanent Chairman PEMRA. There cannot be an acting CHAIRMAN because he becomes a slave to the rulers. To keep his service intact, he pleases the rulers by snubbing the media as they desire. They have placed an acting Chairman who is a retired police officer, a DIG. He is the personal servant and a political worker of the incumbent rulers. A retired DIG and a Chairman PEMRA is a heterogeneous arrangement, without any remote relevance. They executed Model Town and Islamabad massacres through police. The media massacre too is going to be executed through police. They want to murder free press by strangulating it through PEMRA acting Chairman. They want to keep them slave, deprived of their voice and right to freedom of expression. PEMRA has started the process to fetter the free media. The Retired DIG Chairman PEMRA is holding in camera meeting to decide cancelation of ARY license or to impose a ban on the channel. Arrest warrants against the ARY anchor Mubasher Luqman have been issued. He cannot appear on any channel as an anchor, newscaster, analyst, reporter or a guest. They have decided his financial murder. Today they have targeted ARY, tomorrow they will repeat the same massacre against all other channels one by one. All the channels and newspapers will be strangulated one after the other so that they are kept as slaves. In 90s as well, they coerced the print media and strangulated newspapers one by one. The whole journalist community rose to the challenge and became united against the oppression. They fought unitedly and got the press freed. Today they have started the same heinous game against electronic media. The first target has been fixed—Mubasher Luqman. They will launch the same attack against every anchor. The police has raided his house twice today and harassed his children. Every anchor, newscaster, analysts will be similarly targeted tomorrow. We strongly condemn this serious violation of the right to freedom of expression and ill-intended legal activity and harassment that has been initiated against ARY and its anchor Mubasher Luqman.
Condemnation resolution against PEMRA
The institution responsible to provide justice to the wronged need to take note of this occurrence to make the justice prevail. I present a resolution of condemnation against ban on ARY and its anchor Mubasher Luqman and harassment of his children by police and for the safeguard of freedom and sanctity of journalism. The auspicious gathering of a million people passed the resolution by show of hands. ARY or some other channel, we will not let any murder take place. If they do, the whole nation will take to the streets against PEMRA and violation of the freedom of press. We reject the authority of PEMRA. We present another resolution for complete freedom of print and electronic media, newspaper journalists and anchors and their staff. The auspicious gathering passed the resolution by show of hands. If they raise hand against their free role as journalists, the whole nation will protest against it. Will you come out if the ban is imposed? The mammoth gathering affirmed in chorus. The free electronic media has taken the message to every home. They have taken Inqilab everywhere. If their voice is suppressed, you will have to stand with them protesting against this act of oppression.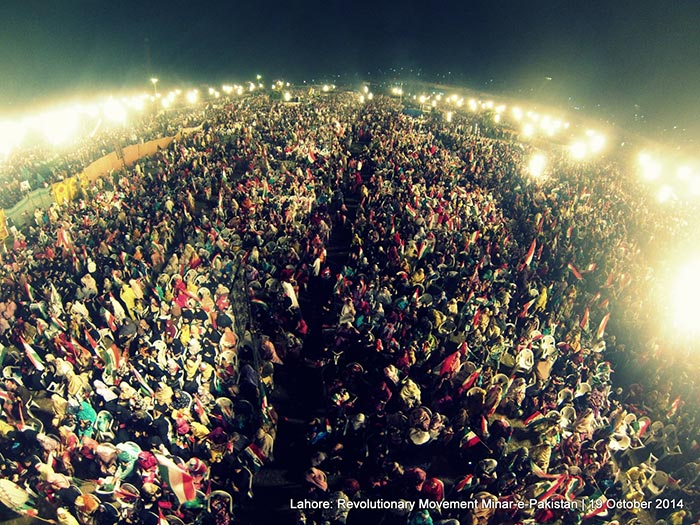 Valour & gallantry of Raja Nasir Abbas/SahibZada Hamid Raza
Pledge taken to make the InqilabMarch countrywide movement - Vow to sacrifice everything for Inqilab
I raised the voice of Inqilab for you, for the poor and deprived masses, for the widowed mothers of the nation, orphan sons and daughters, for the thirsty and hungry, for the homeless, and the oppressed and looted—I have stepped onto this thorny path. Those who stood with me are the ocean of people who joined Inqilab March and sit-in and our partner Muslim League (Q) Sunni Ittihad Council, Majlis Wahdat al-Muslmeen, and our brother J salik and all other leaders Sardar Asif Ahmed Ali, Malik Ghulam Mustafa Khar—these leaders and all workers stood with us in Dharna for 65 days. They remained with us united and firm. On Aug 30, Raja Nasir Abbas and Sahibzada Hamid Raza were out on the road along with the youth of Inqilab March, roaring slogans with chests stretched with zest when the bullets and poisonous gas shells were being rained on them. This is great leadership! The youth have started adoring them. I salute their courage and bravery. We raised the voice of Inqilab and you rose and came out. Now in the Inqilab journey, you have to march on stepping in with me. Raise your hands and show your resolve. Will you march out? YES! Will you fight oppression and injustice? YES! Will you crash into barbarism? YES! Will you bury the status quo system? YES! Will you take Inqilab to every door? YES! Then listen to me. Start membership campaign each one of you with immediate effect. SMS name, city name and UC to 80027 and there you become member PAT. Raise PAT organizations, parties, bodies, groups everywhere. Establishment of a National Government is our mission. We will not step back. We will keep the revolution pressure on and will wake the people up. We seek a government before elections, may it be a caretaker government taking up the national government role. Accountability is our first priority. The corrupt will be ousted. Then the reforms will take place. And then elections will be conducted—this mission will continue. If the elections are imposed & coerced upon us without accountability and reforms, I declare that we will not leave the field open for others and will contest elections befittingly. We will contest elections all over the country and nominate our candidate on every seat. We will expand our power with our partners and form alliance whenever time is ripe. Our concerted struggle will continue until the revolution dawns. You will have to work day and night. This is a war we are fighting for the poor. Are you with the revolution? YES, WE ARE. This is the war for the oppressed, the thirsty, the hungry. Are you with the revolution? YES, WE ARE. This is the war for the jailed and brutally injured. Are you with the revolution? YES, WE ARE. This is the war for the deprived. Are you with the revolution? YES, WE ARE. We will fight for the pleasure of Allah until the millions of poor Pakistanis have a smile on their face and the daughter of the poor has her veil on her head and she gets honorably married. We cannot see the parents in tears. They weep for their poverty and helplessness. The looters do not have the sense to just think and feel upset because the poor committed suicide for starvation. They did not have school fee for the children and the whole family committed suicide. They did not have the money to pay the electric bills so they jumped into the river and drowned themselves. Gang rape, robbery, loot are the perils the weak are facing. There is no justice anywhere. There is no treatment anywhere. Rulers! Have you ever spent a sleepless night grieved for the poor? PM went to 18Hazari for the flood victims and distributed among them cheques worth Rs.25000 each. Every cheque has been dishonored as NOT PAYABLE. When I went there, hundreds of people approached me with their dishonored cheques, crying that they had been cheated. People cry, get disgraced and abuse the rulers, for not a single poor guy could get even a penny. They promised Rs.4000 per acre each for the farmers whose crops were flooded and devastated. They did not get a penny. They are ruthless and callous. They think that the people will cry, and remain in pain and will ultimately pass away and that will be the end of their story. That is why I say: Rise, for you will not get this opportunity again. We are up for revolution and people are awake. We will have to exert and make it a Himalaya of power from Lahore to Karachi, Lahore to Peshawar, Lahore to Quetta and Lahore to Gilgit. We are to win the election with 2/3rd majority. May Allah empower you and bless you with steadfastness and bless Inqilab with victory and bless the people with honor. Give me your word: will you sacrifice all that you have, your wealth, your health and your life.? YES, WE WILL. I need your support. I need your vote. Turn Lahore into the citadel of revolution. This is not a party of landlords and capitalists, so you have to spend also on Inqilab. Think like having elections after three months and spend your time daily. Struggle and strive and lift the poor out of the fire of deprivation and poverty. And we, together, will change the society into paradise. Raise hands and pledge your unity with the unity song!