Dr Tahir-ul-Qadri announces whole amount of alleged deal plus Rs. 50 million more if accusations proven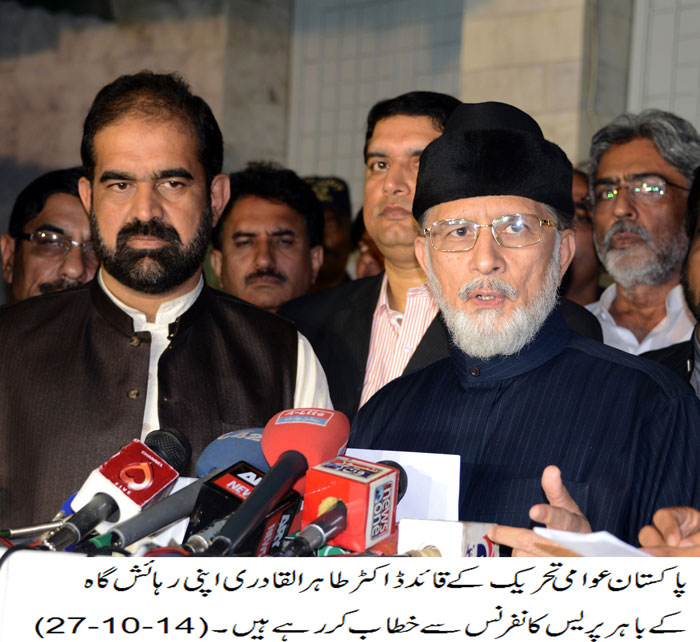 PAT chief Dr Muhammad Tahir-ul-Qadri has, once again, rejected all rumours and speculations of a deal with the government to end sit-in. He said that those making baseless claims and allegations in this respect were mischievous elements and liars. He gave an open challenge to everyone to establish that a deal has been reached, saying that such a person would not only get an entire amount of deal but also an additional amount of Rs. 50 million from him. He categorically denied any contact with rulers' family members, saying that neither did they call him nor did we enter into any deal with anyone. 'There is no deal. Both federal and Punjab governments are our principal accused in Model Town incident. We will not forgive killers. There will be blood for blood but through courts and law of the land, he added.
Dr Tahir-ul-Qadri expressed these views while talking to Kamran Shahid in his programme on Dunya TV on Monday evening. He said that he had said many a time that PAT workers and Tahir-ul-Qadri alone can't bring about a revolution in the country. He said that at least 10 million people will have to take to streets to succeed in toppling the status quo. He, however, paid a glowing tribute to sacrifices, resilience and commitment of PAT workers, adding that there is no parallel example to our struggle against corrupt system and for peaceful revolution in Pakistan's history. He said that though the revolution did not take place in the form of change of the government but the sit-in did transform the thinking and mindset of the masses.
Pointing towards the influence and role of superpowers in internal matters of Pakistan, he said that these powers supported the corrupt government. He said that it was unfortunate to see ruling elite giving in to the international powers with the result that the country can't talk to them courageously on the basis of equality and mutual respect. He said that revolution doesn't mean arson, lawlessness and burning, adding that we have waged peaceful struggle for revolution and will continue to do so in future as well.
Dr Qadri said that our struggle put peaceful public pressure on the government, adding that no other party has generated so much pressure on a sitting government in Pakistan's history. He said that the people crushed government's popularity under their feet by raising 'Go Nawaz Go' slogans to faces of rulers in different areas of the country. He said that there was no mention of putting his name on ECL during dialogue process but added in the same breath that if the government wishes so, it may go ahead and put his name on ECL. He advised those accusing us of deal not to tell lies. He said that they should remember that they have to die one day and be buried into graves.
Dr Qadri asked, is it a democracy where one-sided Judicial Commission set up by the government itself proves its criminality through inquiry and even its report is not published? He said that the Judicial Commission held Punjab government responsible for Model Town tragedy and it is for this reason that killer government is accusing us of a deal. He said that had there been a deal with the government, we would have backed off from our demands, stating that our demands stay today intact the way they were before. He said that former Law Minister of Punjab Rana Sanaullah presided over the bloodshed in Model Town. He said that all these people including police are our nominated accused.
To another question, Dr Tahir-ul-Qadri said that our sit-in generated hatred and rebellion against the corrupt system and rulers. He said that a sea of people attended our public meetings, which was a proof of the government's unpopularity and acceptance of our message. He said that we will continue to move forward in a phased manner as a result of revolutionary and electoral struggle and will not rest till we eliminate corrupt system. He said that he still wears shroud and has not backtracked from his objective, adding that he will continue to fight till overthrow of the corrupt system.