Justice, peace & democracy core message of Imam Hussain's martyrdom (RA): Dr Tahir-ul-Qadri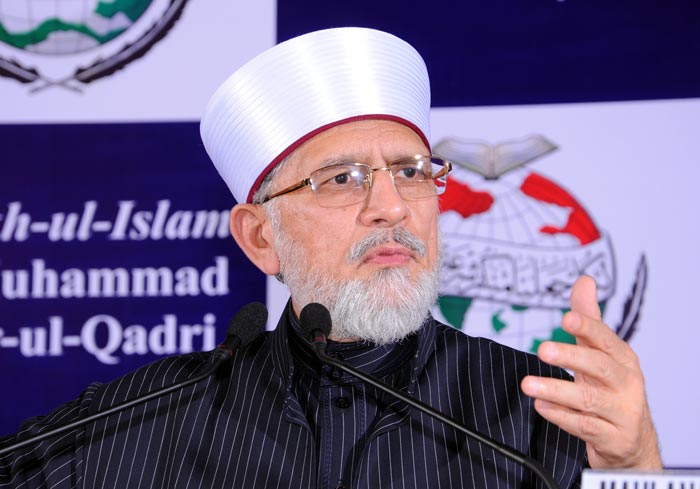 In his special message on Youm-e-Aushra, PAT leader Dr Muhammad Tahir-ul-Qadri has said that the nation will have to vow to rise up against the Yazidi system today and that this will lead to national progress and stability. He said that the only way available to the Muslim community in general and the Pakistan nation in particular to achieve glory is to constantly wage a struggle against Yazidi attitudes. He said that the core message of Hussainyat is to become incarnation of selflessness and sacrifice, to continue to stand up to Yazidi thought and system and to wage a consistent struggle for creation of peaceful and harmonious environment for the humanity. He said that Imam Hussain (RA) continues to rule hearts and minds of people, which imparts an awareness to rise against dictatorship, oppression and coercion.
Dr Muhammad Tahir-ul-Qadri said that the plant of Hussainyat that grew up from plains of Karbla will continue to provide shadow of love, peace, tranquility, democracy and justice to entire humanity till the Day of Judgment. He further stated that consciousness created by martyrs of Karbla will uphold the head of humanity as a metaphor of truth. He said that the great Imam (RA) neither rebelled nor initiated an armed fight nor occupied any place, adding that he waged a peaceful struggle to stop the religious values and traditions from dying. He said that the purpose of the Imam's struggle was to stop the disfiguring of the Islamic teachings by preserving them in their true form. He said that by offering the greatest sacrifice of his life, the Imam (AS) proved that nothing was greater than the respect and sanctity of faith.
Dr Tahir-ul-Qadri said that Hazrat Imam Hassan (RA) and Hazrat Imam Hussain (RA) are the masters of paradise and no one will be able to smell even the fragrance of paradise by nourishing enmity or a bias against these revered personalities. Drawing attention to machinations of the oppressive, anti-Islam forces, he said that new conspiracies are being hatched and mischief being spread to tear the unity of the Muslim community apart. He said that sectarian fires are being fanned to divide Muslims and pit them against one another.
Dr Qadri said that despite being blessed with everything, the Muslim Umma still suffers from anxiety and is facing humiliation and degradation. He said that it is about time the Muslims opted for ways that promote unity and oneness by rising above their narrow and petty differences. He said that love for the Prophet's family is integral part of our faith as love for Husnain Kareeman (RA) is a love for the Holy Prophet (SAW).
He said that we should make a resolve to model our lives on the pattern of lives of these blessed and revered personalities to break free from our internal and external predicaments. He asked the women to take a leaf from the book of Syeda Fatima-tuz-Zahra and make her their role model, adding that the youth should follow Husnain Kareeman (RA) in their footsteps.