News of government's contact with PAT baseless & speculative: Khurram Nawaz Gandapur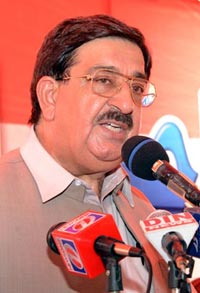 Khurram Nawaz Gandapur, Secretary General of Pakistan Awami Tehreek (PAT), has strongly refuted reports of contacts with the government regarding constitution of Joint Investigation Team (JIT). Terming such news items and speculations as baseless, false, misleading and contrary to facts, he said that the government is spreading propaganda to hoodwink the people.
The PAT Secretary General clarified that the government did not establish any contact with PAT nor are we interested in reaching out to the government. He said that the present government did not have any credibility, adding that we do not want to enter into a dialogue with those who have been reneging on their promises again and again.
Talking to media men in the central secretariat of PAT, Khurram Nawaz Gandapur said that the government is relentless in its victimization as the PAT workers are being harassed in the name of investigation across the country. He said that thousands of workers have been booked in fake cases, adding that the government cannot stop the way of revolution through vindictive actions.
He said that departure of the rulers is written large on the wall and only the blind cannot see the writing. He said that the rulers cannot stay in the way of justice for a long period of time and that they would have to answer for their actions. He said that we are moving forward with our political plan of actions. He said that PAT President Dr Raheeq Abbasi has quashed the reports of a contact with the government, adding that he has manifestly said that the rulers are spreading such rumors to serve their vested interests.