Fake cases against PAT leadership a test case for judiciary: Dr Raheeq Abbasi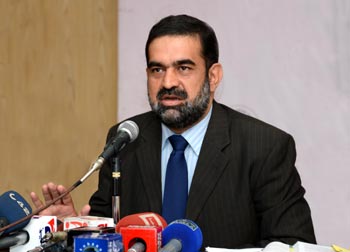 Dr Raheeq Ahmad Abbasi, central President of Pakistan Awami Tehreek (PAT), has said that fake cases of terrorism are a test for an independent judiciary. He said that the Sharif brothers are using the decisions of anti-terrorism courts against their political opponents by supplying false and misleading proofs to the courts through police. He said that this attitude is regrettable and worthy of condemnation. He said that getting fake cases registered against opponents, soliciting arrest warrants by submitting false evidence and then declaring not to arrest them all of these actions are a conspiracy to malign judiciary. He said that honorable judges are requested to keep an eye on nexus between the government and police and not to let the masses' hopes be dashed that look up to judiciary with hopeful eyes.
In a statement issued from the central secretariat of the party, the PAT President prayed to the courts to reject all false cases lodged by police against PAT chief Dr Muhammad Tahir-ul-Qadri, other leaders and workers. He said that Dr Qadri rightly stated in his press conference yesterday that when the courts on whom are pinned hopes of justice start issuing arrest warrants, what door one should knock at for justice? And will the powerful people involved in killing of 14 civilians be ever arrested and brought to justice for their crimes? He said that the government is holding arrest warrants under its wrap after getting them from courts so that we could not seek legal remedy against them. He said that the government's plans will fail and caravan of revolution will continue to move forward. He said that whenever the Sharif brothers come into power, they use police and other institutions for their vested interests and thus damage their credibility. He said that as recent incidents indicate that they are again using the government's machinery for their vindictive politics in their third stint in power and pushing the country into chaos in the process.