Requesting Army Chief's help for sake of justice not a sin: Dr Tahir-ul-Qadri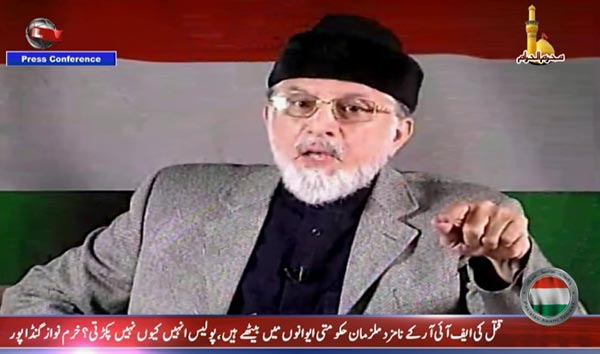 PAT leader Dr Muhammad Tahir-ul-Qadri has said that the influential and powerful rulers who are responsible for Model Town tragedy have shut all doors of justice on us. He requested the Army Chief to help for constitution of a neutral JIT.
In a statement issued from the central secretariat, Dr Tahir-ul-Qadri said that it is not the first incident that army is being requested for help in provision of justice. He said that four civil judges and one sessions judge were killed in Sialkot on July 25, 2003, adding that the then Chief Justice of Lahore High Court had requested the Army Chief for an inquiry because the family of slain judges did not have confidence in the police inquiry. He said that a serving military officer was appointed as inquiry officer at the request of the Chief Justice of Lahore High Court, adding that on receipt of orders, the military officer shifted his office to Sialkot jail for the purpose of inquiry. He said that the inquiry officer completed the inquiry in a record time of four weeks and submitted the report to the then Chief Justice of Lahore High Court, adding that it was on the basis of the inquiry report that the accused were brought to justice.
Dr Tahir-ul-Qadri said that we have not committed a sin by requesting the Army Chief for help in transparent investigation into Model Town killings. He said that the Pakistan military is the only institution which enjoys the confidence of the whole nation. He said that when state power hinders the dispensation of justice, all doors of seeking justice are shut and democratic freedoms are gagged, only then the people look towards the army. He said that it is the same anguish which we are feeling and that is why, have requested the Army Chief for sake of justice.
The PAT Chairman said that since the Chief of the Army Staff got involved in the dialogue process between the government and PTI and PAT on the request of the government and he termed our demands fair, that is why we are asking him for a role for development on the matter and none should have any objection in this respect. He said that these were our people who were killed, it were we who were besieged for weeks on end, it were our people who faced police brutality, were injured and detained, now cases are being registered against us and we are being declared as proclaimed offenders. He asked where does all this happen in a just society that claims to be democratic and led by rule of law?
Dr Tahir-ul-Qadri said that if a government can request the army's help in checking corruption and mismanagement in WAPDA, Railways and education department, the army officers can be requested for conducting inquiries into incidents of killings, army can be requested to play a role in holding fair polls and census, and elimination of polio, military's help can be sought for maintenance of law and order, why can't we appeal the head of army for sake of justice? He made it clear that he has made a request to the army chief for provision of justice after all doors were shut and his request should be seen in the same perspective only.