PAT formally announces schedule of Dr Tahir-ul-Qadri's return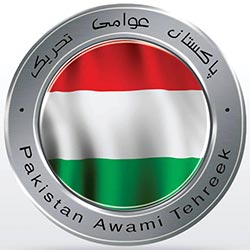 Pakistan Awami Tehreek (PAT) has formally announced the schedule of Dr Muhammad Tahir-ul-Qadri's return to the country including the details of his reception. Talking to media men, PAT central President Dr Raheeq Ahmad Abbasi said that PAT chief Dr Tahir-ul-Qadri will land at the Allama Iqbal Airport at 6 a.m. on November 20. He would directly go to the shrine of Data Sahib to pay his respects there. PAT chief will reach Data sahib by using the route of Ring Road, Harbans Pura, Mughapura, Interchange, Saddar Round Square, Mall Road and Nasir Bagh.
He said that the Lahore chapter of the party has completed all preparations for grand reception of their leader. He said that PAT has formally written to CCPO Lahore, DIG Operations and SSP Security regarding route of Dr Tahir-ul-Qadri. He said that route and schedule of PAT chief's reception has been shared with the Lahore police for foolproof security arrangements. He said that whenever Dr Tahir-ul-Qadri comes back to Pakistan from his overseas tour, the workers extend him a very warm welcome. In a reply to a question, he said that PAT workers are peaceful people and have demonstrated this to be so at numerous occasions. He hoped that the local administration would also extend full cooperation and not create any hurdles.