Dr Tahirul Qadri returns to Pakistan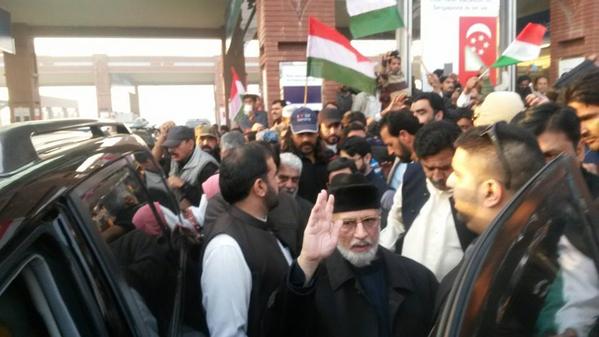 LAHORE/DOHA: Silencing the speculations that he is not coming back anytime soon, Pakistan Awami Tehreek (PAT) leader Dr Tahirul Qadri early Thursday morning returned to Pakistan amid tight security as well as terror threats, Samaa reported.
Meanwhile hundreds of his followers reached Lahore airport to welcome their beloved leader.
"Workers had started pouring in from all across the city. By the time of his arrival a large number of his cohorts, who were holding Dr Qadri's portraits, party flags, banners, and welcome placards were ready to give him a heartwarming reception. His enthusiasts were also warming the frigid morning air with loud 'Go Nawaz Go slogans'", sources told Samaa.
Later, the populist cleric along with his adherents set off for Daata Darbar, the shrine of sufi saint, Abul Hassan Ali Hajvery.
Dr Qadri's flight, which flew from London earlier on Wednesday, landed at Lahore airport around 06:55 AM (PST) Thursday morning.
According to a PAT spokesperson, Dr Qadri has returned to Pakistan after a successful trip to USA, Canada, and the UK. He had left for Canada on October 28 days after breaking his anti-government protest camp in Islamabad.
Earlier Dr Qadri warned Chief Minister Punjab Shahbaz Sharif against ordering a 'hostile welcome' on his (Qadri's) arrival this morning.
"We are not going to storm the CM House or the secretariat building. After reaching home, all I want to do is visit Daata Darbar, with my fellows/supporters", the reformist cleric exclusively told Samaa during a stopover in Doha.
"My followers will receive me at the airport and then we will make a bee line for the sufi saint's shrine as I had missed a visit last time. As against Punjab government's propaganda I have absolutely no intention of leading that small rally to attack any government establishment", Qadri said.
Urging the chief minister of Punjab to refrain from launching a crackdown on his followers, Dr Qadri also ordered his cohorts to cooperate with the administration of Lahore.
"That I will hold a public meeting at Daata Darbar is nothing more than a rumour. No speeches will be delivered there. I'm again calling on Shahbaz Sharif to neither threaten my workers nor feel threatened by them. As like always I have come in peace this time around too", Qadri said.
To a question, he said that his overseas trips would continue like this, adding, but his base camp was Pakistan.
"I am not going anywhere. My war is for Pakistan. This is my answer to propagandists", said he.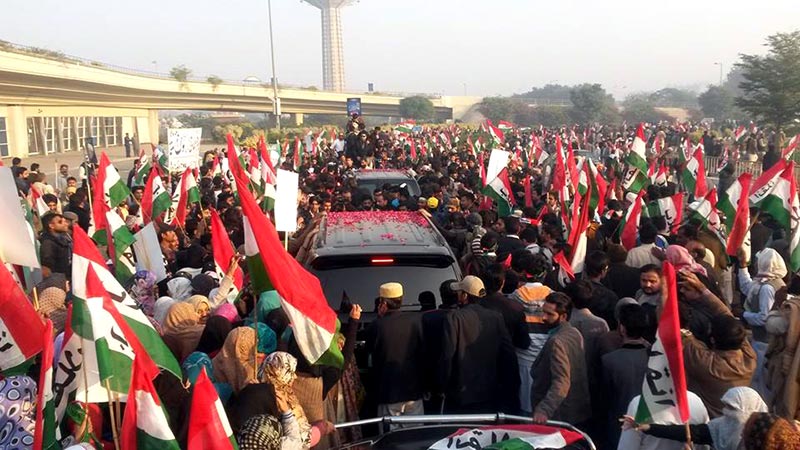 Earlier, citing security reasons, police strongly warned Dr Qadri against lead a rally from Lahore airport to his Model Town residence. "We have credible intelligence that terrorists can strike Qadri's procession", sources quoted a police official as saying.
On the other hand the police also claimed that foolproof security arrangements have been made for Dr Qadri's rally.
A few months back, authorities had diverted his Islamabad-bound flight to Lahore fearing unrest in the capital, as clashes between his supporters and police had left many injured.
The 63-year-old cleric had led tens of thousands of supporters for a sit-in protest in Islamabad demanding electoral reforms and Prime Minister Mian Nawaz Sharif and his brother Shahbaz Sharif's resignations.--SAMAA
Source: http://www.samaa.tv/pakistan/20-Nov-2014/qadri-returns-amid-terror-threats