PAT blasts government for increase in gas tariff, demands immediate withdrawal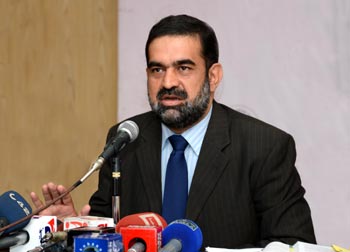 An emergency meeting of senior leaders of Pakistan Awami Tehreek (PAT) was held in the central secretariat on Nov 21 with PAT President Dr Raheeq Ahmad Abbasi in the chair. PAT took a strong exception to the government's decision to increase prices of gas by whopping 30%. The party condemned the government for this anti-people step and called for its withdrawal immediately. It also threatened to start countrywide protest in case the government did not take back the gas tariff hike.
Speaking on the occasion, Dr Raheeq Abbasi said that the consumers will have to pay another amount of Rs. 70 billion through their nose as a result of this raise in gas tariff. He said that the government's decision is violation of the Supreme Court's order as well. He also condemned the police action against protestors protesting the hike in prices of gas in Islamabad. He said that the federal government is patronizing big fish instead of arresting the gas thieves and has no qualm to shift the burden of ever increasing line losses on the consumers for no fault of theirs.
He said that gas is not imported from abroad; rather it is a domestic production, hence there is no justification for it to increase its prices. He said that increase in its tariff will give a boost to surge in the prices of edibles throughout the country. He said that PPP, which never tires itself of pledging loyalty to the poor, is keeping mum on the anti-poor policies of the government. He said that PAT will not be silent on this cruel action of the Sharif government. He said that if increase is not taken back, there would be protest across the country.