Dr Qadri vows to rush back home after recovery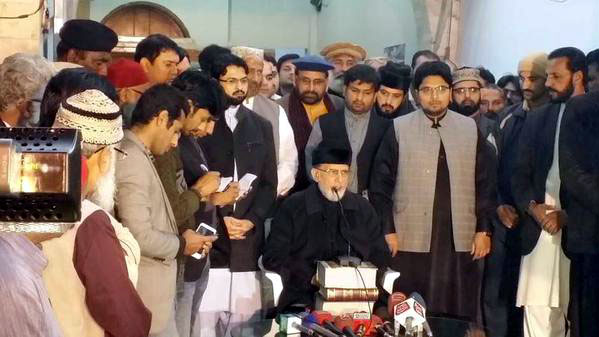 LAHORE: Pakistan Awami Tehreek (PAT) Chief Dr. Tahir-ul-Qadri said the struggle for the eradication of unjust system will be resumed as soon as he recuperates and returns home.
Talking to media before leaving for the US for medical treatment, he reiterated that the blood of Model Town martyrs would not be allowed to go in vain. "No compromise is possible on this matter," he added.
On this occasion, he also brushed aside the reports regarding blood-money, saying, "Even a suggestion to this effect was not given to us by the government or any member of the family of the rulers."
"We will not accept the Joint Investigation Team formed by the government, as according to us, the Punjab government is responsible for the June 17 massacre," he stressed.
"We cannot repose our trust in a JIT formed by the assassins," he remarked.
Referring to the hitherto un-published report of judicial commission that probed the Model Town bloodshed, he requested the Lahore High Court bench to take into its custody the report by the one-judge judicial commission and ensure that the report has not been tampered with.
Dr. Qadri also repudiated the report that he was offered air-ambulance by the government, saying this is a false report and nothing more than a rumor.
Giving farewell message, the PAT chairman urged on his workers to remain high-spirited and turn deaf ear to all rumors, emphasizing there is no room for any doubts in the plan. "I will come back for the millions of poor and down-trodden people of Pakistan buckling under the despotic and unjust system," he repeated. –SAMAA
Source: http://www.samaa.tv
Source : http://www.samaa.tv/pakistan/03-Dec-2014/ailing-qadri-vows-to-rush-back-home-after-recovery