A Visit of Dignitaries of Parliament to MQI Central Secretariat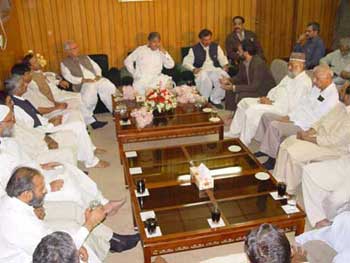 Mr. Farooq Amjad Mir, MNA, Parliamentary Sec., Mr. Manzar Ali Ranjha, Minster for Colonies, Punjab, Mian Afzal Hayat, Ex-Chief Minister, Punjab, Major Rafique Hasrat, Nazim Nishtar Town, Rao Khalid Advocate, Secretary to Parliamentary Sec., visited Minhaj ul Quran International Secretariat on June 23, 2005.
The guests were given a warm receive by Dr. Raheeq Abbasi, Nazim Aala, Dr. Nazir Romani, Vice Chancellor TMU, G.M Malik Spokesman PAT, Syed Duryab Yousaf Hashmi, President Punjab, PAT, Jawad Hamid, Coordinator PAT. Syed Noor, Chief Organizer Cultural Wing also joined the meeting as a host. By the occasion the hosts congratulated Mr. Farooq Amjad Mir for his selection as Secretary Parliamentary Laws, Parliamentary Affairs and Human rights.
G.M.Malik & Syed Duryab Hashmi expressed his gratitude to Ch. Pervaiz Elahi, Chief Minister, Punjab and the honorable guests for their support and collaboration in meting out the case of TMU in the Cabinet and Punjab Assembly. During the sitting Dr. Raheeq Ahmed Abbasi briefed the Guests about the evolution of MQI.
The guests expressed their deep contentment and applause for the services by Dr. Muhammad Tahir-ul-Qadri, Patron-in-Chief of TMQ in the field of Education, Welfare and Religion.