Supporters of terrorists are terrorist too: Khurram Nawaz Gandapur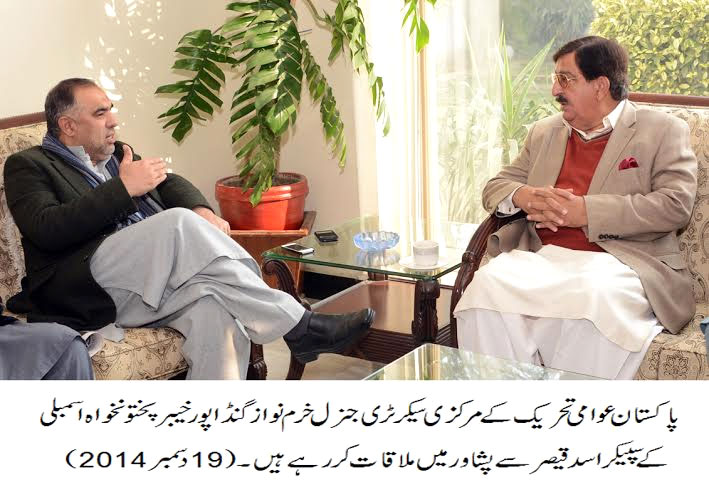 PAT Secretary General Khurram Nawaz Gandapur called on Speaker of the KPK Assembly Asad Qaiser in Peshawar and expressed the deepest sense of grief and sorrow on behalf of Dr Tahir-ul-Qadri on the heart-renting tragedy in the provincial capital. He termed the martyrdoms of innocent children as the biggest crime on the face of earth.
A PAT delegation led by Khurram Nawaz Gandapur offered funeral prayers of the departed souls. They visited the bereaved families and expressed their heart-felt condolences to the parents of the slain children. They also visited hospitals to inquire after the children undergoing treatment there and prayed for their early recovery. Sajid Bhatti, Amjad Ali Shah, Sohail Ahmad Raza and Khalid Durrani were members of the delegation.
Khurram Nawaz Gandapur spent two busy days in Peshawar. On his return to Lahore, he talked to party office holders as well as media persons. In his talk he said that he who does not call a terrorist a terrorist is a terrorist himself as well. He said that both judiciary and police have an important role to play for elimination of terrorism and they should act fearlessly. He said that the institution of police needs to be de-politicized. He said that unless syllabi of religious seminaries was revised and amended to make it compatible with contemporary requirements, terrorism would not end from the country.
PAT Secretary General said that majority of the seminaries are serving Islam and Pakistan but added that there are some black sheep as well which are brining a bad name to religious educational institutions by feeding their students on sectarianism and militancy. He said that students of religious seminaries feel alienated and are ready to do anything when they do not get mainstreamed in the society with little access to economic opportunities. He said that terrorism would not end without ending deprivations, political oppression and injustice from the society, adding that a comprehensive plan of action is need to uproot terrorism. He said that destroying safe havens of terrorists is merely one part of the job.
Khurram Nawaz Gandapur said it is now time to take clear and definitive stand on the national issues by shunning policy of double speak and confusion. He said that Dr Qadri issued a600-page Fatwa against terrorism in 2010 but the government did not benefit from it. He said that no party and leader could be against militancy and terrorism more than PAT and Dr Tahir-ul-Qadri.