PAT demands immediate hanging of convicted terrorists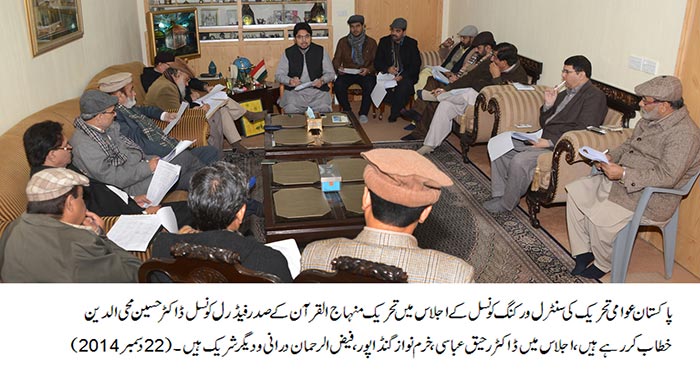 The Central Working Council (CWC) of Pakistan Awami Tehreek (PAT) has demanded that the convicted terrorists should be hanged without any further loss of time and killers of humanity should not be allowed to exploit any legal lacuna. They warned that otherwise, it will swell public anger and undermine the spirit of unity and consensus against terrorism.
The Central Working Council also prayed to the honorable Chief Justice of Pakistan to play his role at constitutional and legal levels to accelerate the process of hanging of terrorists. The members of the Council also impressed upon the government to fulfill its responsibility too. It should plug the legal loopholes that are hindering the process of hanging by issuing presidential ordinances. They said that if the rulers can get ordinances issued for their own benefit, there should be no excuse to issue them to be able to deal with national challenges.
The CWC meeting was attended by President of PAT Federal Council, central President Dr Raheeq Ahmad Abbasi, Secretary General Khurram Nawaz Gandapur, Faiz-ur-Rehman Durrani, Amir MQI, GM Malik, Qazi Faiz-ul-Islam, Sajid Bhatti, Jawad Hamid, Rana Idrees, Ahmad Nawaz Anjum, Razia Naveed, Shoaib Tahir and others.
Speaking on the occasion, Dr Hussain Mohi-ud-Din Qadri said that it is for the first time in last 12 years that the nation has decided to take on the terrorists and their patrons. He said that 14-point anti-terror strategy presented by PAT chief Dr Tahir-ul-Qadri the other day is an antidote to terrorism and militancy and a great national service in its own right. He said that the masses now want that these terrorists should be consigned to hell, adding that if the government showed any laxity or cowardliness on this count, it should be ready to face the consequences of its policy paralysis.
Central PAT President Dr Raheeq Ahmad said that those taking lives of the innocent people including women and schoolchildren do not deserve any mercy or concession. He said that these beasts have no rights. He appealed to the legal fraternity not to extend legal aid to the enemies of humanity, for they are the worst opponents of Islam and Pakistan. He said that it is duty of every citizen to purge the beautiful land of Pakistan of evil existence of terrorists.
PAT Secretary General Khurram Nawaz Gandapur said that the Peshawar tragedy has encouraged the whole nation to stand up to terrorists. He said that the Pakistan army is carrying out the most important operation of its martial history at this time. He said that Operation Zarb-e-Azb is an operation for survival of Pakistan, adding that the whole nation will have to stand behind their armed forces. The CWC also paid glowing tributes to the officers and jawans of the armed forces and other law enforcement agencies for rendering invaluable sacrifices in war on terrorism. The meeting also decided that the struggle will continue to be waged against every form and manifestation of terrorism and extremism. It agreed to launch awareness campaign aimed to activating every citizen at intellectual level against scourge of terrorism.