Multiple crises result of deviation from Quaid-e-Azam's teachings: Dr Tahir-ul-Qadri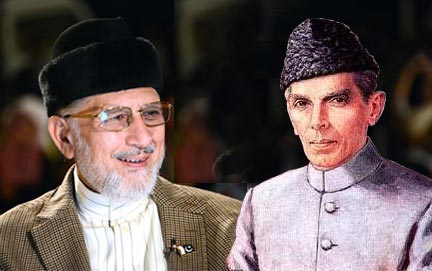 In a special message to the people of Pakistan on the eve of the Quaid-e-Azam's birth anniversary, PAT chief Dr Muhammad Tahir-ul-Qadri has said that it is not the ruling elite but the unity among the masses that will save Pakistan. He said that had sanctity of vote not been violated, there would not have been any poverty, ignorance, extremism and injustice in Pakistan. He said that the Quaid-e-Azam wanted such a Pakistan in which all segments of society enjoy equality of rights and opportunities. Everyone should have freedom of expression and every citizen is known as a Pakistani.
He said that those who came into power in the name of the Quaid-e-Azam used the state power to increase their fortunes and patronage system instead of using it as a means to transform the country and the condition of teeming millions. It is because of this power play that the country has come to be divided between the powerful and the powerless classes, the oppressor and the oppressed and the killers and the killed, he added.
The PAT chief said that PAT believes in political thought of the Quaid-e-Azam, adding that the country can come out of multiple crises in which it remains stuck if we act upon the teachings and ideals of the Quaid.
Meanwhile, renowned religious scholar Syeda Khanam Tayyaba Bukhari called on Dr Tahir-ul-Qadri in Houston (USA) at the head of a delegation. She inquired after Dr Qadri and prayed for his early recovery and long life. She expressed her grave concern on the fast deteriorating situation in the country. She emphasized the inevitability and criticality of Operation Zarb-e-Azb and demanded that the operation be extended to the rest of the country to expose patrons, supporters, and enablers of terrorists.
Syeda Khanam Tayyaba Bukhari appreciated the scholarly and intellectual efforts of Dr Tahir-ul-Qadri against terrorism. She particularly mentioned his 600-page Fatwa against terrorism and suicide bombing and 14-point anti-terror strategy, saying that research work of Dr Qadri should be benefited from. She said that the people of Pakistan could eradicate the scourge of terrorism by forging unity in their ranks. Dr Tahir-ul-Qadri thanked Khanam Tayyaba Bukhari and the members of her delegation for taking time out to inquire after his health.