PAT rejects alleged claim of a woman regarding remuneration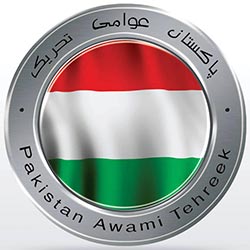 A spokesperson of Pakistan Awami Tehreek (PAT) has explained that no woman by the name of Mamoona is either member of MQI or PAT and a news item published about her claim to remuneration in a section of press is not only false, misleading but also an outright lie. He said that this seems to be a handiwork of a government functionary, adding that PAT not only rejects this claim but also condemns this.
The spokesperson clarified that the patriotic Pakistanis and the members of Pakistan Awami Tehreek are its donors and the leaders who have been mentioned in the news item have never met anyone. He said that PAT has an effective and broad-based organizational network through which mass contact campaigns are run. He further said that the workers who can face the police bullets for 12 long hours, how can they demand payment?
The spokesperson said that even the central President of Women Wing is unaware of the name and introduction of the woman. He said that PAT is one such party as does not have anything to do with political culture of this kind. He said that the workers of Dr Tahir-ul-Qadri do not hesitate to render the sacrifice of their life for the sake of principles. He said that the same negative mindset is behind this news which cooked up fake stories of money being responsible for end of sit-in. He appealed to media not to assign any importance to such misleading and false news. He said that such baseless accusations do not have any legal and moral status.