PAT seeks Presidential Ordinance for establishment of military courts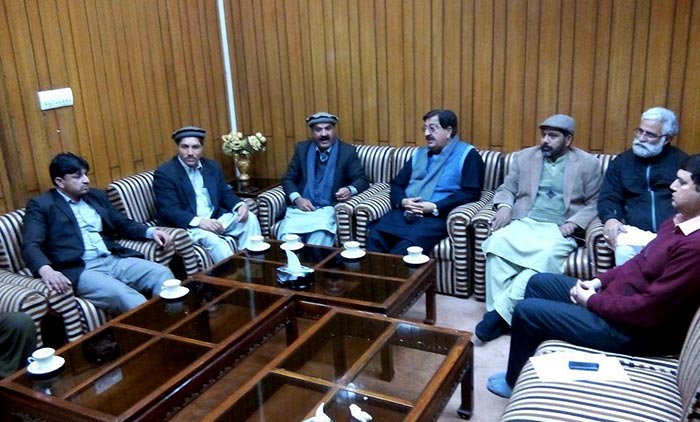 PAT Secretary General Khurram Nawaz Gandapur has said that questions are being raised about national consensus due to non-representation of opposition in the committee constituted by the Prime Minister regarding implementation of national action plan against terrorism. He said that the Prime Minister should immediately send a summary to the President for issuance of Ordinance for the establishment of special courts so that the courts could start their work, adding that consultations may be held later on. He said that the terrorists are getting an opportunity to reorganize and regroup themselves owing to delay in setting up of special courts and conclusion of other critical affairs. He said that time was already given to terrorists to strengthen themselves in the name of dialogue.
The PAT Secretary General expressed these views while talking to a delegation from Gilgit-Baltistan and Malakand Dir that called on him in his office yesterday. The delegation consisted of Prof Shaukat Ali, Muhammad Shafi Advocate, Abid Hussain and Ijaz Hussain. Sajid Bhatti, Jawad Hamid, Sohail Raza, Raja Nadeem and other PAT leaders were also present on the occasion.
The delegation paid rich tributes to Dr Tahir-ul-Qadri for waging a consistent struggle against terrorism and for restoration of constitutional rights of the masses. The delegates announced to join PAT on the occasion.
Welcoming the delegation to the PAT family, Khurram Nawaz Gandapur said that it is not time to constitute committee after committee and hold unending consultations; rather it is time to take some concrete and solid steps against terrorism.
Responding to the statement of the Opposition leader Syed Khursheed Shah, he asked him to tell frankly and honestly whether the establishment of special courts is not inevitable in view of prevailing security situation in the country. He asked, is it not right that the decision to hang six of the terrorists after offering the sacrifices of over 50,000 lives was taken by the army courts. He said that the whole nation is looking forward to the parliamentary leadership at the moment.
Khurram Nawaz Gandapur said that it is also PAT's point of view that no court or institution including the military courts should be misused for ulterior objectives against political opponents. He warned that if any cowardliness, delay and procrastination were shown by the leadership in the matter of dealing with terrorism, then the nation will be justified to ponder over the alternate option.