PAT again refuses to join 'biased' JIT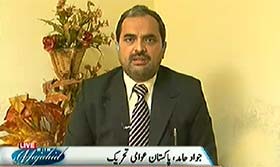 LAHORE: The Pakistan Awami Tehreek has once again refused to join proceedings of the joint investigation team (JIT) formed to probe the June 17 Model Town tragedy in which 14 party workers had died and around 100 injured in a police raid on Minhajul Quran secretariat and residence of PAT Chairman Dr Tahirul Qadri.
In a letter authored by PAT's legal team and addressed to the Inspector-General of Punjab Police, secretariat administrator Jawad Hamid has alleged the joint investigation team formed without consulting the aggrieved party is even more biased and partial than the previous JIT.
"The team is working under your good self and it is well known that you have an affable association with the chief minister and due to this reason you were transferred from Balochistan to Punjab to achieve results according to the wishes of the current regime," alleges the letter.
DIG Abdul Razzaq Cheema, the team chairman, is directly working under the IGP, the CM and Punjab government, therefore, no impartiality can be expected of him, it adds.
It also says that other members of the new JIT include officials from Punjab police, which is also an accused in the case (Model Town massacre).
Casting doubts on the JIT performance, it says working of the investigation team smack of mala fide intention and instead of investigating the issue it has started raiding residences of the victims in order to pressurise and harass them.
The letter alleges that one of the accused, SP Omer Virk, has been specifically deputed to harass the witnesses of the victim party and has visited their houses.
In view of the aforesaid reasons, it argues, investigation in the case can only be conducted by an independent body headed by the Khyber Pakhtunkhwa IGP with members from law-enforcement agencies like ISI, MI, IB and formed with the consultation of the aggrieved party.
Mr Hamid promises to present "hundreds of affidavits" of people to an independent and impartial JIT constituted with the consultation of the aggrieved parties wherein actual details of the occurrence will be spelled out and which will enable the team to conduct a "fair and just" investigation.
Source: http://www.dawn.com/news/1153974/pat-again-refuses-to-join-biased-jit
Source : http://www.dawn.com/news/1153974/pat-again-refuses-to-join-biased-jit