PAT writes to IG Police, gives reasons for not appearing before JIT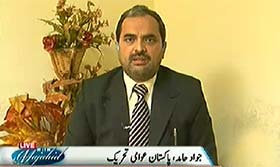 In a letter addressed to Inspector General of Police (IGP), Jawad Hamid, complainant on behalf of PAT in the Model Town case, has informed him about the reasons for not appearing before the Joint Investigation Team (JIT). He stated in the letter that PAT does not trust the JIT, for it comprises officers of Punjab police that attacked the residence of Dr Tahir-ul-Qadri on June 17 with an intention to kill his family members. The police killed 14 people and injured about 100 others in the presence of media. The only fault of Dr Tahir-ul-Qadri and his workers was that they were waging a struggle to expose the plunder of the ruling party and for restoration of fundamental rights of the masses. The Punjab government, in a vindictive action, used police to attack the MQI secretariat and residence of Dr Tahir-ul-Qadri at night and shed the blood of innocent people.
Responding to notices issued by the IGP regarding recording of statement by appearing in JIT, Jawad Hamid said that we would present ourselves before a JIT which does not have any member of Punjab police and which consists of representatives of ISI and MI. He said that the Chief Minister ordered the report of judicial tribunal not to be released and thus misused his powers. He said that as long as the incumbent Chief Minister stays in office, the JIT, working under him, cannot fulfill the requirements of justice. A copy of the letter has also been sent to Home Secretary Punjab, JIT head Abdur Razzaq Cheema, CCPO Lahore, DIG Investigation Lahore, SP Investigation Lahore, DSP Investigation Faisal Town, DSP Muhammad Azam, and SHO Faisal Town.