Faith leaders pray for peace and progress of Pakistan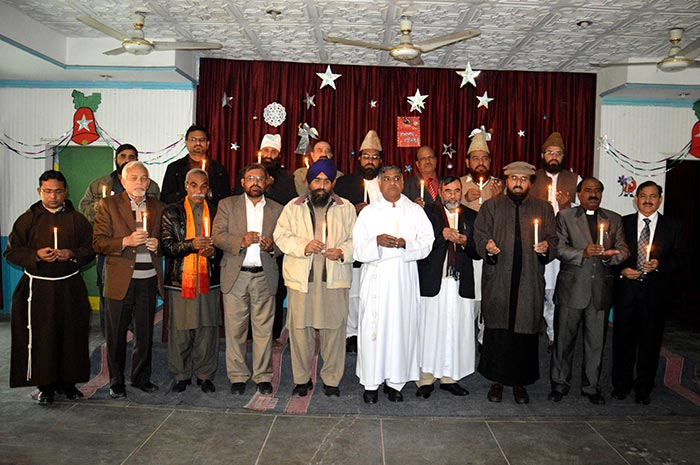 New Year interfaith prayer ceremony was held in Saint Mary Church in Gulberg, Lahore, under the banner of National Council for Interfaith Dialogue. Reverend Francis Nadeem was the host of the ceremony. Faith leaders made a collective prayer for year 2015. Those present on the occasion were Master Emanuel Khokhar, Hindu leader Pandit Bhagat Singh, Sikh leader Sardar Bishin Singh, and Muslim leaders Allama Shafaat Rasool, Mufti Ashiq Hussain, Allama Ghulam Mustafa Chishti and director of MQI Interfaith Relations Sohail Ahmad Raza.
The faith leaders prayed for peace, harmony and tranquility in the country. They said that Pakistan is a country of all people living in it and they share grief and happiness together. They lighted the peace candles on the occasion.
Addressing the prayer ceremony, Sohail Ahmad Raza underlined the need of declaring year 2015 as the year of interfaith harmony, adding that special efforts need to be made to strengthen bonds between Muslim and Christian communities. He said that we need to work on promoting love and harmony in the society. He said that the birth anniversary of the Holy Prophet (SAW) will be celebrated twice in 2015 namely on January 03 and December 26, whereas the birth of Jesus Christ is celebrated on December 25. Therefore there is a need to make the year memorable by making efforts for promotion of interfaith dialogue in the world.
Sohail Ahmad Raza invited the faith leaders to attend International Mawlid-un-Nabi Conference on the intervening night of Rabi-ul-Awal which they accepted happily. He supported the setting up of military courts to try and mete out exemplary punishments to terrorists so that the country could be made hub of peace and terrorism and militancy could be eradicated. He also urged the Pakistanis to forge unity in their ranks to be able to overcome all challenges. He congratulated the Christian community on the advent of New Year on behalf of Dr Tahir-ul-Qadri.