Mawlid-un-Nabi Conference to be held at Minar-e-Pakistan: Dr Raheeq Abbasi
Punjab govt should not increase its evil deeds by stopping Milad Conference: Dr Raheeq Abbasi addresses press conference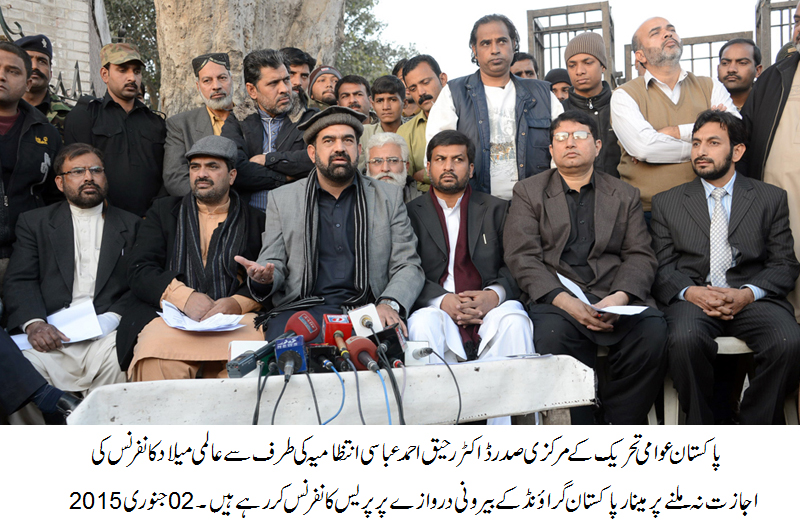 Central PAT President and head of Milad committee Dr Raheeq Ahmad Abbasi held a press conference at the gate of Minar-e-Pakistan as a mark of protest against blocking of the media persons' entry into the Minar premises. He strongly condemned the government's attitude and asked the Punjab government not to increase the number of its evil deeds by disrupting the Milad conference. He asked the Chief Minister Punjab whether stopping the Conference is an official policy of his government. He said that if every political party can hold a public meeting here, why can Mawlid-un-Nabi Conference (SAW) not be allowed at the same venue? He said that the government trembles before those holding arms and ammunition in their hands but gets tough with peaceful and law-abiding people.
Dr Raheeq Abbasi said that the country is in a state of war at the moment and the nation is facing the evil and mischief of Khawarij in the form of terrorism. He said that terrorists want that our schools become deserted, people stop going to Mosques out of fear and stop celebrating our religious festivals and national days, our routine of life gets disturbed slowly and agenda of anti-Islam Khawari forces succeeds. He said that Minhaj-ul-Quran International will not let the agenda of patrons of terrorism and mischief of Khawarij succeed. He said that the government is so terrified that the terrorists who were handed down death penalty, the government is unable to execute them out of fear.
Warning the Chief Minister not to stage a repeat of Model Town tragedy, Dr Abbasi said emphatically that Mawlid-un-Nabi Conference (SAW) will be held at Minar-e-Pakistan on January 3, 2015. He said that if the administration tried to use force, the government will be responsible for the ensuing consequences. He said that the government is creating hurdles in the conduct of the Conference, which is a non-political event attended by renowned religious scholars of every school of thought, Naat Khawan and Qaris. He said that we wrote to District Coordination Officer Lahore on December 12 for formal permission which has not been granted to date. He said that we have fulfilled all legal requirements for permission, adding that we ask the government to discharge its administrative responsibilities for the conduct of the Conference by rising above bias and politics of every kind. He said that a number of public gatherings were held at Minar-e-Pakistan in December, and it should have no objection at this time.