Crises to end if we reconnect with person of the Prophet (SAW): Dr Raheeq Abbasi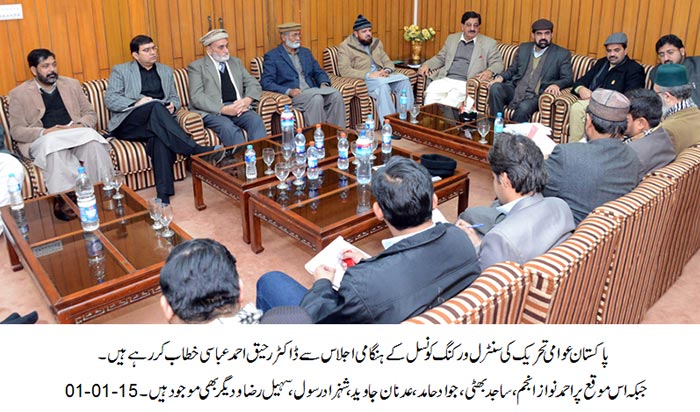 Central PAT President and head of Milad committee Dr Raheeq Ahmad Abbasi has asked the Punjab government to stay away from disrupting the conduct of the International Mawlid-un-Nabi Conference. He said that Minhaj-ul-Quran International had made a formal request for permission of the Conference about a month ago, which has not been granted. He made it clear irrespective of whether permission is granted or not, 31st Mawlid-un-Nabi Conference will be held at Minar-e-Pakistan on Saturday as per schedule. He said that Dr Tahir-ul-Qadri will address the Conference via a video link, adding that his speech will be shown around the world through internet and TV networks.
Dr Raheeq Abbasi expressed these views while addressing an emergency meeting of Central Working Council of Pakistan Awami Tehreek on January 1, 2015 at the party secretariat. Ahmad Nawaz Anjum, Sohail Ahmad Raza, Jawad Hamid, Sajid Bhatti, Adnan Javed, Shahzad Rasool and others were present on the occasion.
Dr Abbasi said that the so-called rulers should be ashamed of the fact that the people are burning in the fire of extremism, terrorism, price hike, unemployment and load-shedding. The innocent people are being killed. He said that the whole country has been engulfed by incidents of terrorism due to incompetence of these rulers and destruction has been imposed on us. He said that instead of tackling these issues, the rulers are bent on stopping the Mawlid-un-Nabi Conference from being held. He said that we do not need permission of anyone, adding that MQI workers will celebrate the blessed occasion of the Prophet's birth anniversary befittingly and preparations for the Conference have begun at the Minar-e-Pakistan and the Milad gathering will be held at Minar-e-Pakistan in every case.
Dr Raheeq Abbasi said that MQI is busy in spreading the love of the Prophet (SAW) throughout the world and international Mawlid-un-Nabi Conference, an annual feature, has become a distinct identity for this purpose. He said that over 100 Islamic and Cultural Centres are busy in promoting love of the Prophet (SAW) in the world. He said that the people of Pakistan are lucky that they have been hosting this mega event for last 30 years. He said that there is a need to work hard on reconnecting with the person of the Holy Prophet (SAW) so that all our crises end and spring returns to our lives.
The members of administrative committees briefed him about status of preparations. Dr Abasi expressed his satisfaction on the pace of preparations.