People taking keen interest in protest demonstration scheduled for Jan 17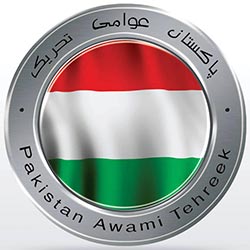 Ch. Afzal Gujjar, President of PAT Lahore chapter, has said that arrangements have been completed for demonstrations on January 17 against lack of justice in the Model Town tragedy. He said that people belonging to every union council of the city will take part in the demonstration in large numbers.
Ch. Afzal Gujjar expressed these views while addressing a meeting held to review the level of preparedness in regard to demonstration. Hafiz Ghulam Farid, Sultan Mahmood Ch., Ms. Atiya, Haji Abdul Khaliq, Altaf Randhawa, Dr Iqbal and Raja Nadeem were also present in the meeting.
Sharing details about the demonstration, the President of PAT Lahore chapter said that protest camps will be set up at various places in the city and pictures of martyrs of Model Town will be placed at these camps. He said that corner meetings are underway in various towns of Lahore to make the demonstration successful and mass contact campaign has also been launched for the purpose. He said that the people are taking keen interest in the protest scheduled for January 17. He said that big banners against state terrorism and killers will be hung in front of the Lahore Press Club.
Speaking on the occasion, General Secretary of PAT Lahore Hafiz Ghulam Farid said that the martyrs of June 17 are our pride and the living nations do not forget their martyrs. He said that our protest will continue unless those involved in Model Town tragedy are punished according to letter and spirit of the law. He said that the sacred blood of martyrs will be harbinger of revolution that will replace darkness by light. He said that the whole nation will have to ponder seriously as to why its resources were concentrated in a few hands. He said that people should support PAT for establishment of an egalitarian society.
He said that Dr Tahir-ul-Qadri will be among his people after recovery from heart ailment, adding that his arrival will boost the morale of the nation. He said that the option of peaceful change has not been exhausted yet. He said that everyone will know on January 17 as to who savior of the people is. He said that the residents of Lahore will pay rich tributes to martyrs of Model Town, which will be remembered for times to come. He said that time has come for the people to awaken from slumber and not hand over their destiny in the hands of a few privileged families. He said that the nations that do not rise to protest oppression and violation of their fundamental rights are doomed. He said that Dr Tahir-ul-Qadri always exposed the political interests of the rulers before the nation at every stage.